RAINA Ellison- New mother and previous MITH Cover Model, dishes us the latest: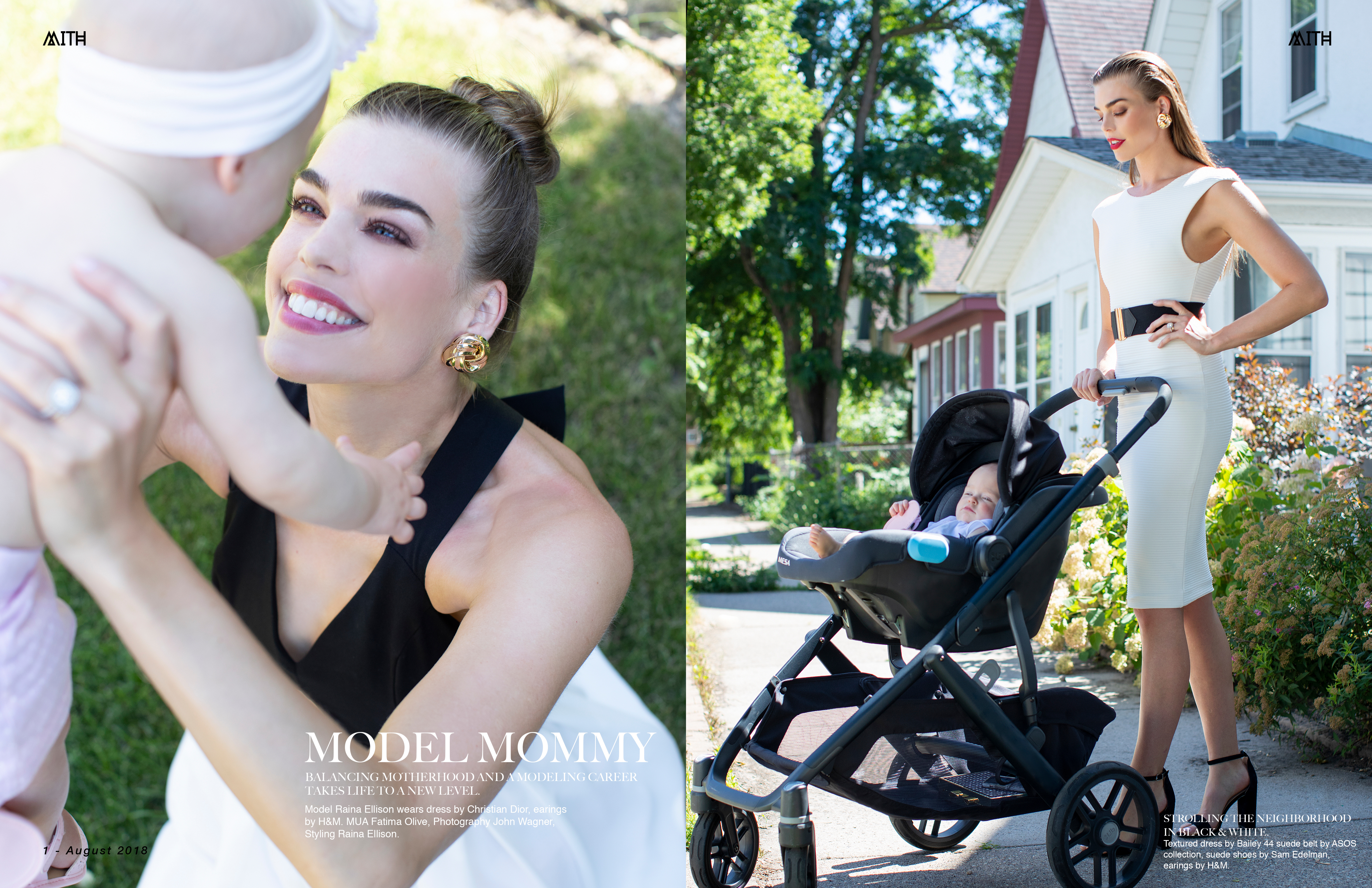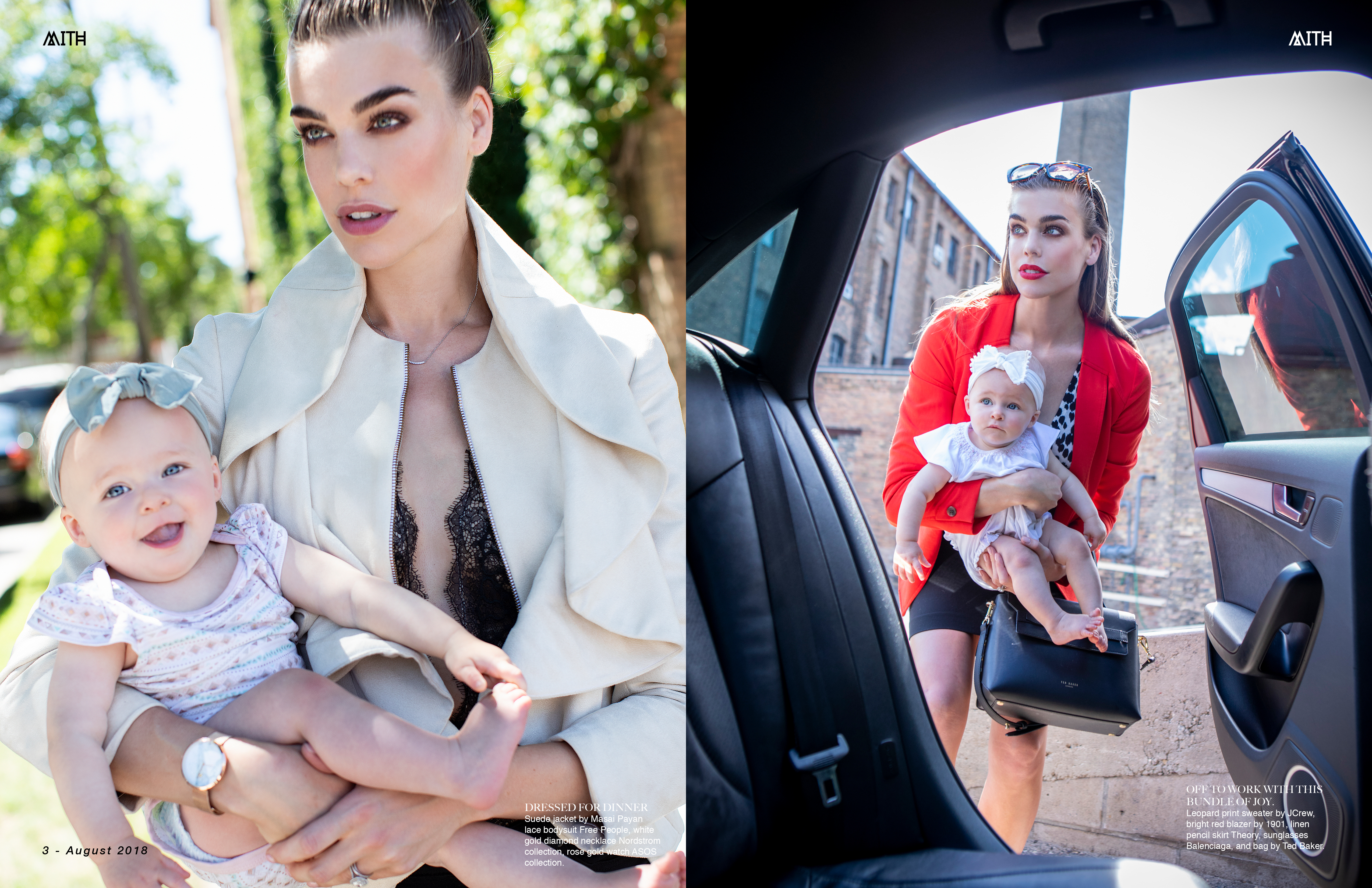 MITH: Raina, it's been awhile since we featured you as a MITH cover model. We see you have gotten married to your NFL dream hubby and had an adorable baby girl since then!! Tell us more about what you have been up to since wifedom and motherhood?
Raina: So much has happened!!! I now live in NYC! It's crazy- I went from living in LA, to moving to Minneapolis, Minnesota to be with my (then) Fiancée. We got married in the redwood mountains of Northern California. A little over a year after that, my husband switched teams from the Minnesota Vikings to the New York Giants, so we moved to NYC. Our beautiful daughter was born last Fall!!! It's been an amazing whirlwind! I'm busy being a mommy to the sweetest little girl with the biggest heart and a wife to the most incredible and wonderful husband in the whole wide world!!! I still have to pinch myself to make sure I'm not dreaming!
I've also started a blog!!! I'm often asked all sorts of questions regarding Motherhood, Modeling, Excercise, Etc. I decided with those questions, combined with all of my adventures, travels & experiences, that I should start writing about it! So I did:) www.rainaellison.com
MITH: Are you still acting and modeling as a mother?
Raina: Being a mommy and a wife is #1. I've done a few jobs here and there, but I'm not going to take a job if it means being away from my family for too long. Shooting this editorial has been my favorite shoot-to-date, just because I got to do it with my sweet little puddin' dollop!
MITH: Tell us about this shoot!
Raina: All of it was shot back in Minnesota (where I'm originally from). The shoot location was in the Arts District, downtown. For the first time ever, I put on my stylist hat and styled the entire thing! I actually pulled everything from my own wardrobe. One of the looks is what I wore to my first movie premiere. Another look is what I wore to my husband's and my engagement party! Another look is what I wore to my 2nd movie premiere. The suede jacket is actually a custom couture piece a dear designer friend Masai Payan gave me. But of course, the best part of it all was getting to shoot with my daughter, Kaia! Big shout-out to my husband for being there the whole day helping out with her!
MITH: That's wonderful, Raina! You look amazing and radiant as a mother! How did you stay fit for your pregnancy? What exercise did you do, and what did you eat? We are sure lots of women will want to know your tips.
Raina: I walked A LOT-about 4 miles almost every day. We also have a pool that I took advantage of! Swimming was my favorite exercise to do while pregnant because it took pressure off of my joints, and I still got a great cardio session in! As far as what I ate- I didn't put any restrictions on myself, but aimed for healthy foods like fresh fruit, fresh veggies, and foods high in healthy fats and proteins like avocado, coconut & walnuts. It worked out well because I craved healthy foods for the most part. But don't get me wrong, sourdough bread with butter and tomato sauce were definitely a favorite for a while :):)
MITH: What on-the-go snacks and other items do you keep in your modeling and mommy bag for emergencies and must-haves?
Raina: For Kaia, I always put frozen watermelon rinds in her diaper bag for her teeth that are starting to come in. For me, I like bananas and Macro bars- easy to grab on the go. I also never leave the house without water, my phone, and of course…that eye concealer (sometimes I need more than one application).
MITH: How do you find the balance in what you wear with being a classy and tasteful mom but still being relevant and fierce?
Raina: I try not to focus too hard on "what is in." Instead, I like to wear whatever makes me feel my best. Comfort has been and still is #1. I'm not a big accessory person- a bold red lip or a killer pair of heels is about as far as I go.
As far as my style goes…here are a few options I like to wear:
My stay-at-home-Mommy clothes: Usually comfy sweats or workout attire (often covered in drool or baby puke.)
My going out clothes: I stick to the basics for the most part. I'm a big fan of white T's or black tanks, paired with a great denim jacket, clean-cut shorts & black leather booties, or my favorite pair of sneakers. I accessorize with simple jewelry and my chic "go to" black or nude bag.
Date nights with my husband: I opt for skinny jeans and a sexy, yet classy bodysuit with a blazer, or a bodycon dress paired with a chic jacket. And always, always heels (my favorites at the moment are Sam Edelman, Cole Haan or Stuart Weitzman).
MITH: Remind our audience some of your career highlights so far!
Raina: Some of my favorites have been shooting editorials and print campaigns, and walking on Runways in LA, Barcelona, Paris, Hong Kong, Manila and Dubai. It's hard to pick just one designer or just one place. There have been so many incredible people, artists I've gotten to meet and places that I've gotten to go to. As far as theatrical work goes, some of my favorites have been shooting commercials for Target, Forever 21, McDonald's, JCPenney, Smirnoff and Dos Equis. I also got a lead role in 2 different feature films that I worked really hard for! It's always so rewarding seeing hard work pay off.
MITH: What do you think of MITH's movement on inner beauty, knowing one's worth and focusing on leaders in the community wo give back? What is your personal heart and voice on these topics?
Raina: I think it's absolutely wonderful! It's so important to give back. My husband and I have been involved with Project Kind- an organization focusing on supporting, loving and uplifting those experiencing homelessness (primarily in Newark, NJ). We go down to Newark to meet and build relationships with the people there and see how we and others can help them. Often, we bring hot breakfast sandwiches from our favorite bagel shop! Just recently, my husband helped get his teammates and the Giants organization involved, and the Giants Stadium opened their doors to the first ever "Worthy of Love Fest" where over 80 people experiencing homelessness were bussed into the stadium from Newark to experience a whole day just to themselves! It was AMAZING! To learn more, you can visit Project Kind's website! www.projectkind123.org
MITH: Raina, thank you so much for updating us on your journey. You are an amazing mother, wife and leader in the community. You will forever be part of the MITH fam, and we look forward to seeing your journey continue.
Stay tuned with all her latest adventures on Instagram at @rainmonsterr and don't forget to checkout her new blog at rainaellison.com
Photo editing and interview questions: @hollyglasser
Editorial Credits:
Model and Stylist: @rainmonsterr
HMU: @fatimaolivebeauty
Photographer: minneapolis_photographer