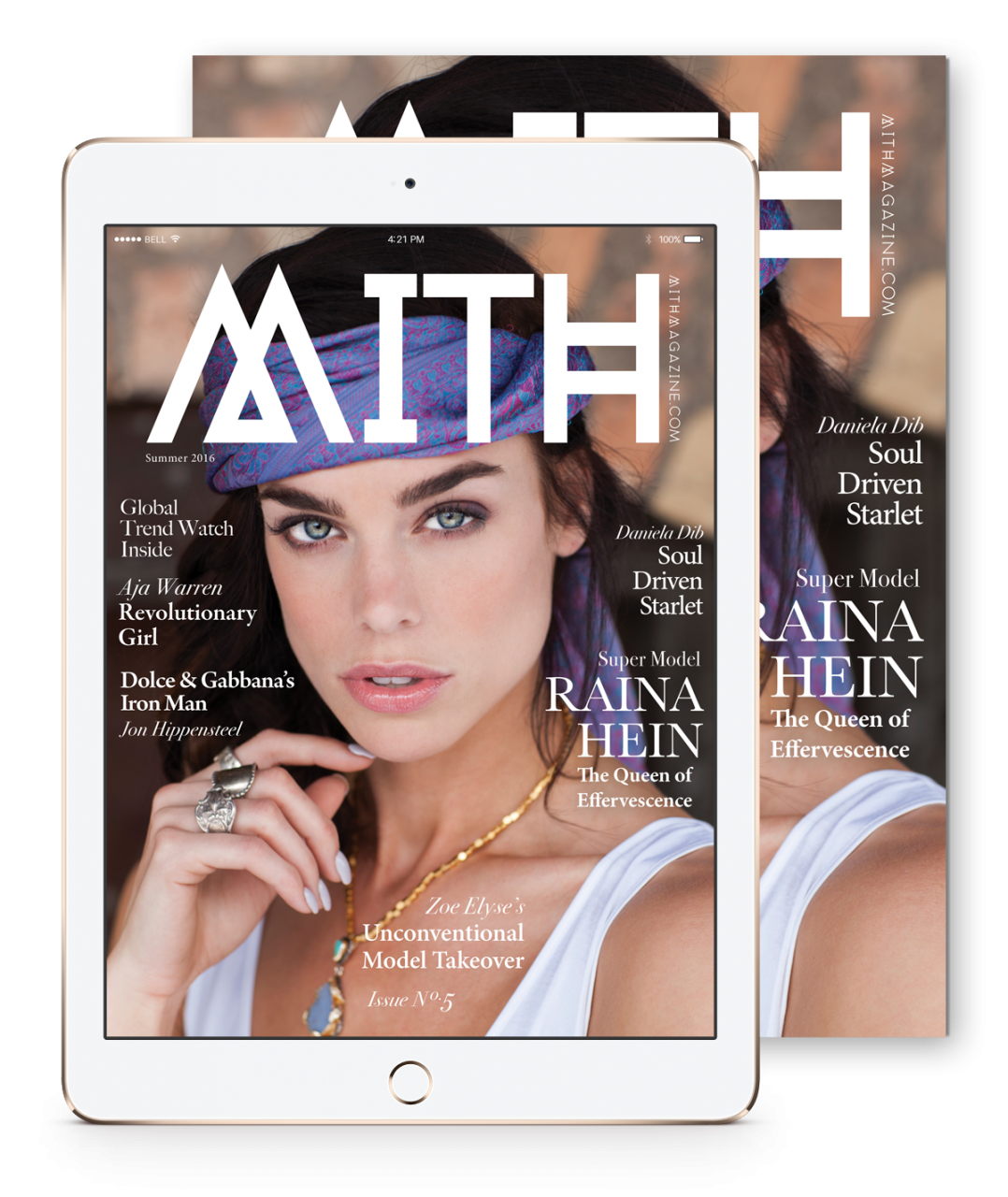 Buy Print at These Locations
Become a stockist! Contact us hello [at] mithmagazine.com
Issue No.5 On Sale NOW! In Digital + Print.
Classy redefined by the chic, creative hipsters & dreamers.
Buy Print - Single Issue
Single Issue: $19.99
Premium Coffee Table Centerpiece Magazine
Issue No.5 Highlights
Cover Story: Supermodel Raina Hein
TV & Film:
Daniela Dib - Soul Driven Starlet
Fitness:
Jon Hippensteel - Dolce & Gabbana's Iron Man
Music:
Aja Warren - Revolutionary Girl
Modeling:
Zoe Elyse's Unconventional Model Takeover
Sarah Loven's Poetry and Photography
Ethical Fashion:
Hiptipico by Alyssa McGarry
Fashion Designer:
august's Jenna Jackson
Brand Launch:
VDV by Shop Van De Vort
Beauty Guide:
 Celebrity makeup artist Jessica Hoffman
Boho Style Guide:
Blue Eyed Girl Boutique
Global Trend Watch:
 Tictail Marketplace
MITH is for free-spirited, creative, driven girls. MITH tells inspiring stories of rising stars in fashion and entertainment. Also find stunning and tasteful fashion editorials, as well as travel, fitness and lifestyle features. From Brooklyn to LA and the world beyond, MITH highlights the young and innovative artists and dreamers.
MITH Features
• stunning fashion editorials
• style guides from your favorite fashion bloggers
• exclusive Q&As with talents to watch in fashion and entertainment
• exclusive fashion week coverage
• inspirational stories
• beauty guides from celebrity makeup artists and hair stylists
• fitness and health
• travel guide