Whether you're a yummy mummy or leader of the pack, let this coming Mother's Day be your opportunity to snap back into style! With a little help from some of our favorite stylish celebrity moms, we've created five outfit ideas to help you get inspired and create your very own signature look for this Mother's Day. From minimalist Gwyneth Paltrow to glam goddess Jennifer Lopez, our handpicked celebrity moms each offer up different styles, and we're sure you'll take a fancy to one or the other!
Gwyneth Paltrow
Achieve Gwyneth Paltrow's famed casual chic look with this dipped hem beige halter neck paired with these gold buckle pants, both from White Fox Boutique. To complete the look, accessorize with some statement jewelry from DYRBERG/KERN and a pair of stylish half-moon specs from Cynthia Rowley.
White Fox Boutique, Ivy Top in Beige, $32.95
White Fox Boutique, Buckle Pants in White, $65.95
DYRBERG/KERN, Cerith Earrings, £85.00
Dyrberg/KERN, Glaze Necklace £99.00
Cynthia Rowley, Sunglasses, $99.00
Topshop, OXFORD Saddle Cross Body Bag, $48.00
Topshop, MELINA Slingback Block Heels, $48.00
Jennifer Lopez
To some, this celebrity mom can be described as the epitome of true modern-day Hollywood glamour. For me, Jennifer Lopez is an ideal supermom to borrow fashion tips and ideas from. J. Lo's style, like her career, is forever evolving. Be it a family day out or some one-on-one time with your significant other, if your aim is to switch things up this Mother's Day, take a little inspiration from J. Lo's glamourous wardrobe and be paparazzi ready in no time!
Pair this super cute boyfriend ripped jean in dark denim with this stripy crop top and grey fur jacket – all three pieces exclusively from White Fox Boutique's spring/summer 17 collection. KAHMUNE's open toe heel sandals in tan brown will give this outfit the edge that it needs and can go from a casual day to a romantic evening look. To finish, accessorize with a cute silver crossbody bag from Marey London.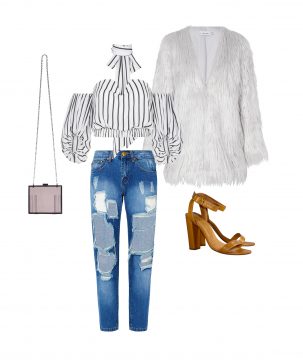 White Fox Boutique, Boyfriend Ripped Jeans Dark Denim, $64.95
White Fox Boutique, Geo Crop White, $49.95
White Fox Boutique, Portofino Faux Fur Grey Jacket, $109.95
Marey London, Polly Handbag, £37.00
KAHMUNE, Gaborone Lucy, £219.00
Heidi Klum
If you had a list of celebrity moms you could take style inspiration from, we would no doubt find Heidi Klum on that list! A veteran in the fashion, modeling and TV industry, across the years Heidi Klum has redefined the meaning of the title "working mom." Recreate the supermodel's chic daytime look with pieces from Kira Pizzingrilli's spring/summer 17 collection. These navy wide leg stiped trousers match perfectly with this nude pink off-shoulder top and crystal white tailored blazer. Complete this look with this season's lace trim choker from DANNIJO, and a pair of Topshop block heel open toe wedges in warm taupe.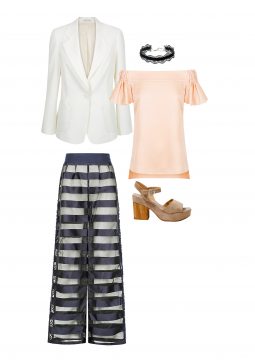 Kira-Pizzingrilli, Pants, $220.00
Primari, Crepe Blazer Cream $173.00
Pimari, Nude Pink Dinner Date Top, $195.00
DANNIJO, Choker, $78.00
Topshop, VIOLETS Suede Sandals, $90.00
Miranda Kerr
If comfort is the end goal, then look no further. This celebrity mom who once described her signature style as "classic, chic and comfortable" is definitely a great choice to get inspired by. Former Victoria's Secret model turned beauty enthusiast Miranda Kerr's take on fashion is effortless and easily achievable. If you take a fancy to this style, then why not try recreating this look for Mother's Day? Take Primari's "Dinner Date" Top in Nude Pink and pair it with Kira Pizzingrilli's mint green skater skirt to get that ultimate spring/summer look. Slip on a pair of Topshop KAT Squared Flat Mule Sandals and Tori Gold hoop earrings from DANNIJO to finish.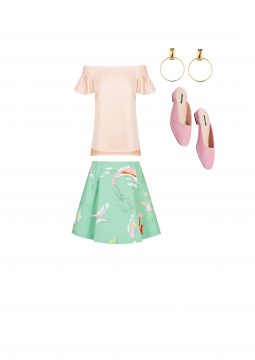 Primari, Dinner Date Top in Nude Pink, $195.00
Kiza Pizzinrilli, Mint Green Skater Skirt
Dannijo, Earrings, $145.00
Topshop, KAT Squared Flat Mule, $85.00
Solange Knowles
Not afraid of a bit of color? Well, neither are we! And no other celebrity mom comes to my mind more than Solange Knowles when I think of bold colors, abstract prints, and amazing hair! This style icon has mastered all of the above to a 'T," and all while being a supermom and Grammy awarding-winning artist. If you love Solange's colourful approach to fashion, then why not try adding some color and sass to your outfit this Mother's Day? This 1950's style green collar dress shirt from Samantha Sung will be a showstopper matched with this apple red crossbody bag from Cynthia Rowley.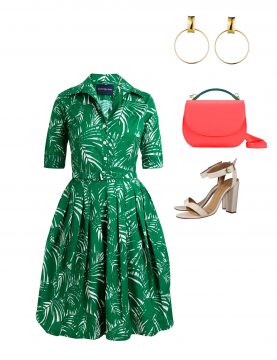 Samantha Sung, Claire Dress Shirt Collar 1/2 Sleeve Cotton Stretch (Maui Palm), $695.00
Cynthia Rowley, Gemma Crossbody Bag (Red), $44.97
Dannijo, Earrings, $145.00
KAHMUNE, Edinburgh Lucy, £219.00
Words by Ivy Scarlett
Instagram @loveivyscarlett
Twitter @loveivyscarlett
Brand Website Links:
DYRBERG/KERN https://www.dyrbergkern.com/
Cynthia Rowley http://www.cynthiarowley.com/
Primari http://www.primari.com.au/
DANNIJO https://dannijo.com/
Samantha Sung https://samanthasung.com/
Kira Pizzingrilli http://kirapizzingrilli.com/
Marey London https://www.mareylondon.com/
White Fox Boutique https://www.whitefoxboutique.com/
KAHMUNE https://kahmune.com/
Editor-in-Chief
Instagram: @hollyglasser