A beauty secret you won't want to miss…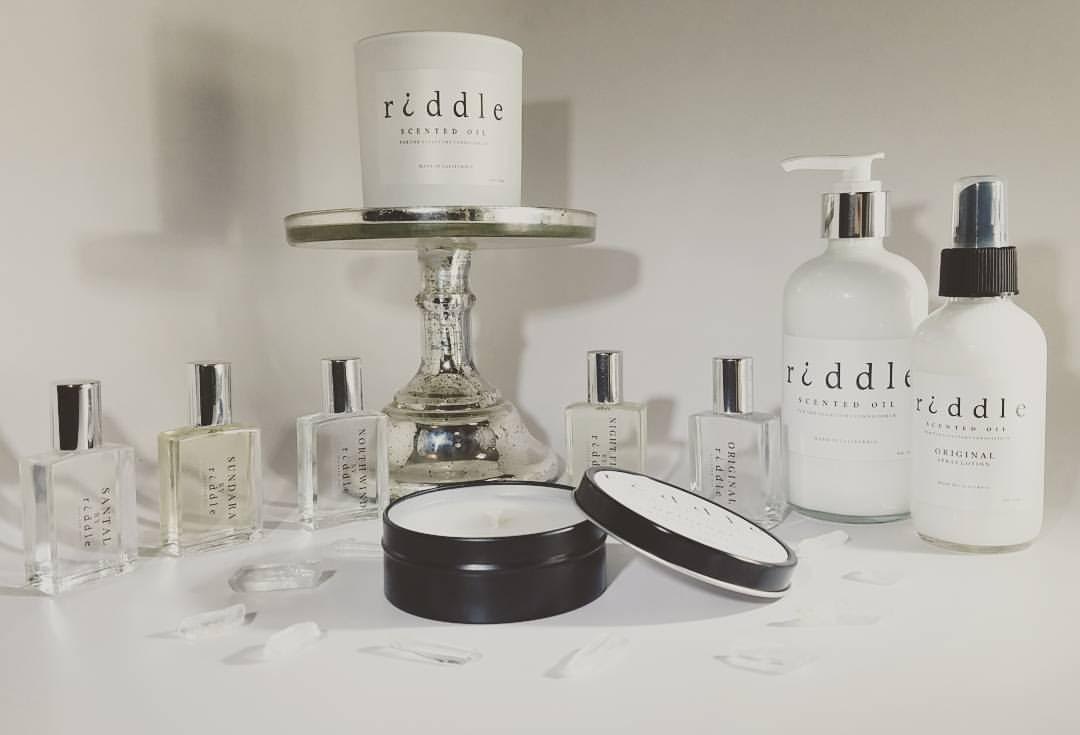 I recently discovered the Riddle scented body oil collection through my blogger friend Sarah Loven. Riddle Oil is a one-of-a-kind scent that works with your body chemistry. Not only does Riddle have many varying scents of roll-on body oils, but also candles, massage oils, lotions, and more. When Sarah Loven introduced me to Riddle, we were at an event, and her long, flowing blond hair and whimsical floral gown were accompanied by the wafting odors of this glorious scent that had me swooning, "What is that smell?" She showed me her secret weapon-a tiny little bottle of Riddle Oil, the original scent.
Sarah explained that Riddle is a pheromone-based perfume that often leaves strangers wanting to hug her. We giggled, and she let me borrow the scent all day. I was allured by the very delicate and welcoming aroma, and soon discovered this was my favorite scent of all time!
Just days later, I was with a guy friend who is never one to flirt, and out of nowhere, as I dabbed some Riddle Oil over my collarbones to delight myself, he stuttered out of nowhere, "You need to make babies." This had me laughing SO hard. I let him know I had just put some pheromone perfume on, and he turned three shades of purple and walked away for a few minutes to collect himself. This was probably the most comical moment of my entire. summer.
I soon tested Riddle Oil on my sister at brunch. Her eyes popped wide as she smelled the scent, as she began frantically typing on her phone, exclaiming, "How do I get this scent, RIGHT now?" She's hard to please with scents. The last perfume I had gifted her, she never wore. But this one was different, and I was flattered that she approved of my taste in fashion and femininity, as she is known to wow the crowd with her glamour.
Soon after, I was talking to a woman about her shoe collection at a fashion house, and she interrupted me mid-sentence, extremely distracted about something, and said, "Excuse me, but what is that amazing scent you are wearing?" She giggled profusely, almost as if she'd just seen her recent crush. As she leaned closer to my neck to breathe in the scent a little more, she grabbed my shoulder, and she laughed and gushed uncontrollably. "It smells sooo good, hahaha!" You would have thought we were two best friends giddy over a boy if you had walked by, but we had just met. She said, "I have to get this, like now. Thank you!"
You're welcome. 😉
Riddle Oil is not only a conversation piece, it's an opportunity to bond or connect with others. This is my favorite part about Riddle Oil, and why I will wear it far into the future. To find a scent that flatters you while remaining subtle yet powerful, is a true find!
This is also a great scent to cover up those perspiration odors when you're living a busy life. Lift your arms just a little bit, and no one will notice your stress. They'll be too busy processing the wafting and wooing scents of Riddle Oil! So evocative and enticing!
Riddle is such a hit, and so pleasing, you'll be sure to want to order it for yourself. I've never received this many compliments from other scents. I'm letting out my biggest beauty secret, so thank me for this one. 🙂
Take a look at the ingredients below:
Riddle comes in 5 scents, the first two of which are my favorites, and I HIGHLY recommend them both
Original Scent: Musk fragrance oil (Light, airy, and enticing)  with secret ingredients!
Night Flower: TOP – WHITE PEONY, JASMINE / MIDDLE – TUBEROSE, TAMARIND, ARUM LILY / BASE – INCENSE, SANDALWOOD, AMBER (Reminiscent of Gardenia, but more sultry)
Santal: TOP – SPICY CARDAMOM / MIDDLE – AMBER, SANDALWOOD, ORCHID / BASE – MANGO BLOSSOM, STRAWBERRIES, VANILLA (Minty-cool freshness)
Sundara: 
TOP – GREEN TEA, LEMON / MIDDLE – BLACK TEA, JASMINE / BASE – HAY, TONKA BEAN, SANDALWOOD (A little more peppery and pungent)
Riddle Oil also has a new scent, which I have yet to try! It sound super tropical and fun!
North Wind: 
SCENT PROFILE – FRESH PEACH, PINEAPPLE, PAPYA, COCONUT MILK, LILIES AND WILD FREESIA.
 __________________________________________________________
Get yours today at Riddleoil.com
Find Riddle on Instagram at @Riddle_Oil
Article by Holly Glasser, Editor-in-Chief of MITH Magazine