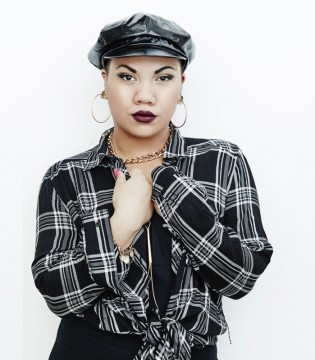 PARRIS GOEBEL – At the young age of 23, Parris Goebel already has stars lining up to ask her to choreograph for them. She's worked with JLO, Janet Jackson, Nicki Minaj, Beyonce and Justin Bieber to name a few. Her fame really blew up following the release of the "Sorry" video that featured her own ReQuest Dance Crew. It had over 20 million views on YouTube within 48 hours. In just 2 days Parris directed 13 videos that make up Bieber's "Purpose: The Movement." Discover what it was like from the diva herself.
Your (spectacular) dance style Polyswagg combines "sassy woman fire with aggressive inner strength." How does it empower women?
It allows women to be strong when they dance while using the beauty of being a woman at the same time.
Do you have a mentor that has supported and guided you on your journey to success? 
My dad is my manager and together we are a powerful team. They say I am a female version of him.
"Self doubt will always come a calling if you allow it to but you have to believe in yourself no matter what"
You strive to bring women together and create things that inspire other women. What other strong feminine groups do you aim to inspire and vice versa?
No groups in particular but more just ladies that I meet and click with and then start making some magic together.
Most of the awesome looks from Sorry and What Do You Mean were from your wardrobe. Where do you find such epic 90's attire? 
 Just clothes I have picked up as I travel the world.
Justin Bieber's "Sorry (PURPOSE: The Movement)" Video
Why do you think women are often "underrated" in the dance world? How do these videos work to change this?
 I don't believe women are underrated so much today as we have worked hard to change that. The videos highlight dance as an art form and has pushed both women and men to the forefront of the music.
Have you ever been put down for being yourself? How did you persevere?
Self doubt will always come a calling if you allow it to but you have to believe in yourself no matter what. You also need people around you that will always support you and believe in you. Dream big and get to work and the fear will go away.

What do you do in your free time?
Spend time with my family.
Which of the 13 videos are you most proud of?
All of them – I couldn't single one out as they are all special in their own right.
What was the most memorable moment of filming? 
Getting to work with Justin. He is a true artist and was so passionate on the set which was amazing and made his two videos rock.
How did you collaborate with the film crew?
The trick is to communicate what I am thinking and then everyone around you will work to make that vision happen.
Was working with Justin different than working with other artists?
No – everyone is passionate in their own right and each of the artists knows what they want.
Follow Parris Online:
Parris' Website: http://parrisgoebel.com
ReQuest Dance Crew: http://www.thepalacedancestudio.co.nz/
Parris on Instagram: https://www.instagram.com/parrisgoebel/
Parris on Youtube: https://www.youtube.com/user/BGPOPA/
Next Week Part 2! Parris Goebel's Royal Court: The ReQuest Dance Crew 
Interview by Kathleen O'Neill