INTERVIEW + FASHION EDITORIAL PHOTOSHOOT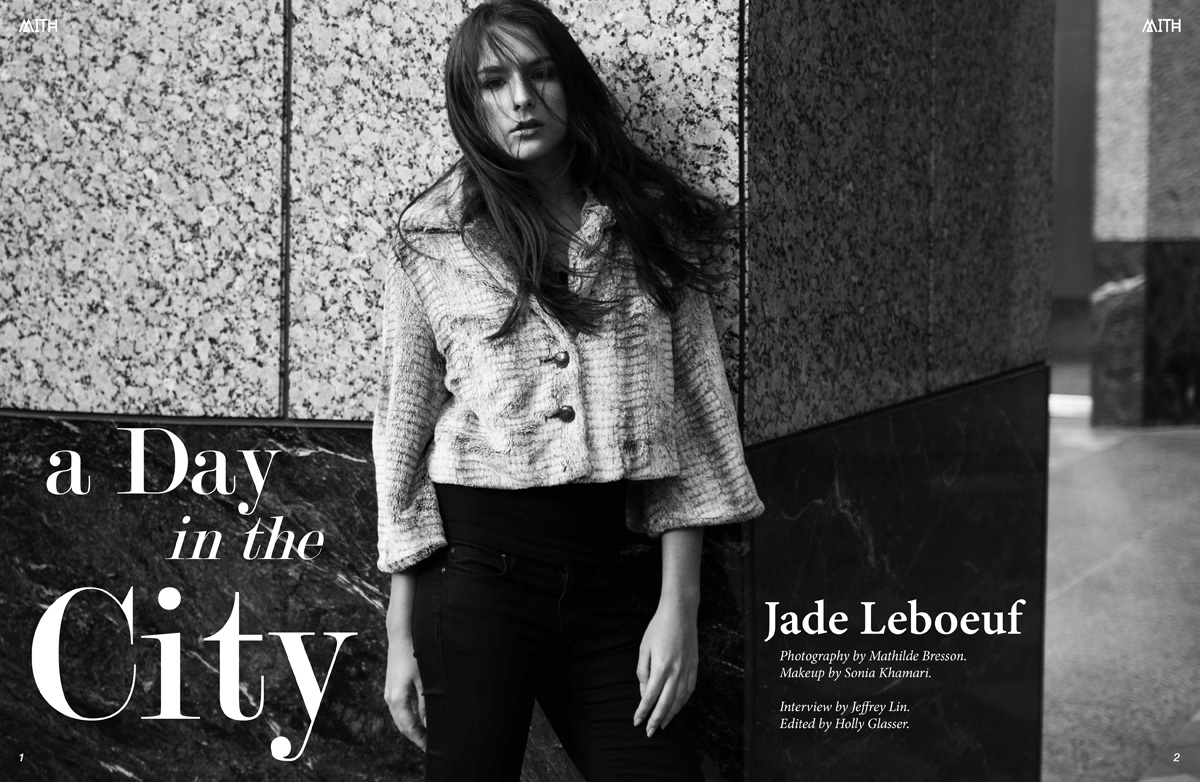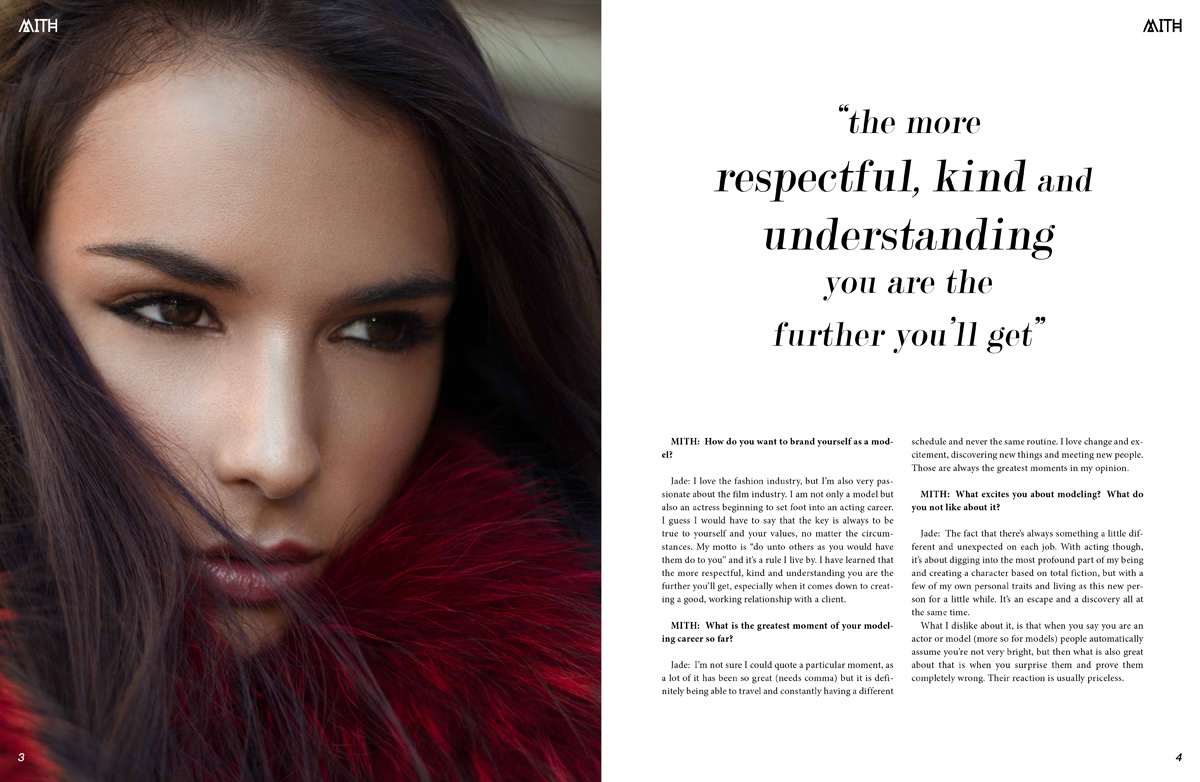 MITH:  How do you want to brand yourself as a model?
Jade: I love the fashion industry, but I'm also very passionate about the film industry. I am not only a model but also an actress beginning to set foot into an acting career. I guess I would have to say that the key is always to be true to yourself and your values, no matter the circumstances. My motto is "do unto others as you would have them do to you" and it's a rule I live by. I have learned that the more respectful, kind and understanding you are the further you'll get, especially when it comes down to creating a good, working relationship with a client.
MITH:  What is the greatest moment of your modeling career so far?
Jade:  I'm not sure I could quote a particular moment, as a lot of it has been so great, but it is definitely being able to travel and constantly having a different schedule and never the same routine. I love change and excitement, discovering new things and meeting new people. Those are always the greatest moments in my opinion.
MITH:  What excites you about modeling?  What do you not like about it?
Jade:  The fact that there's always something a little different and unexpected on each job. With acting though, it's about digging into the most profound part of my being and creating a character based on total fiction, but with a few of my own personal traits and living as this new person for a little while. It's an escape and a discovery all at the same time.
What I dislike about it, is that when you say you are an actor or model (more so for models) people automatically assume you're not very bright, but then what is also great about that is when you surprise them and prove them completely wrong. Their reaction is usually priceless.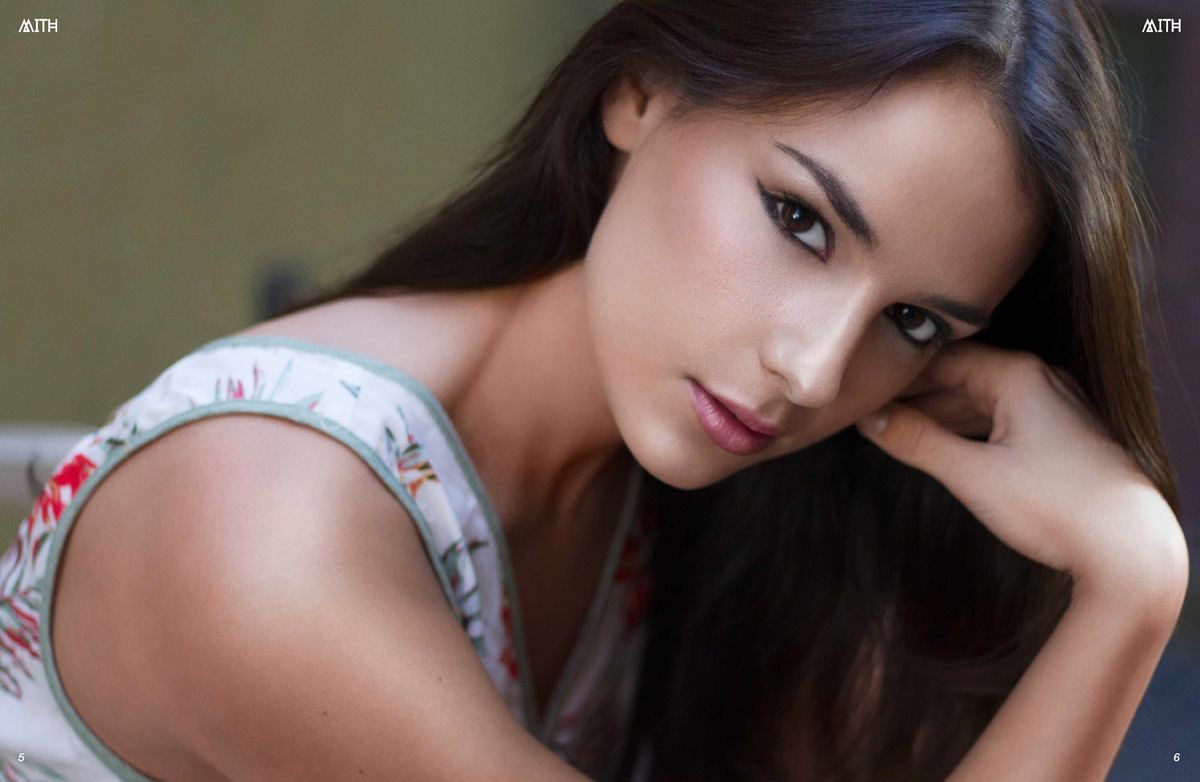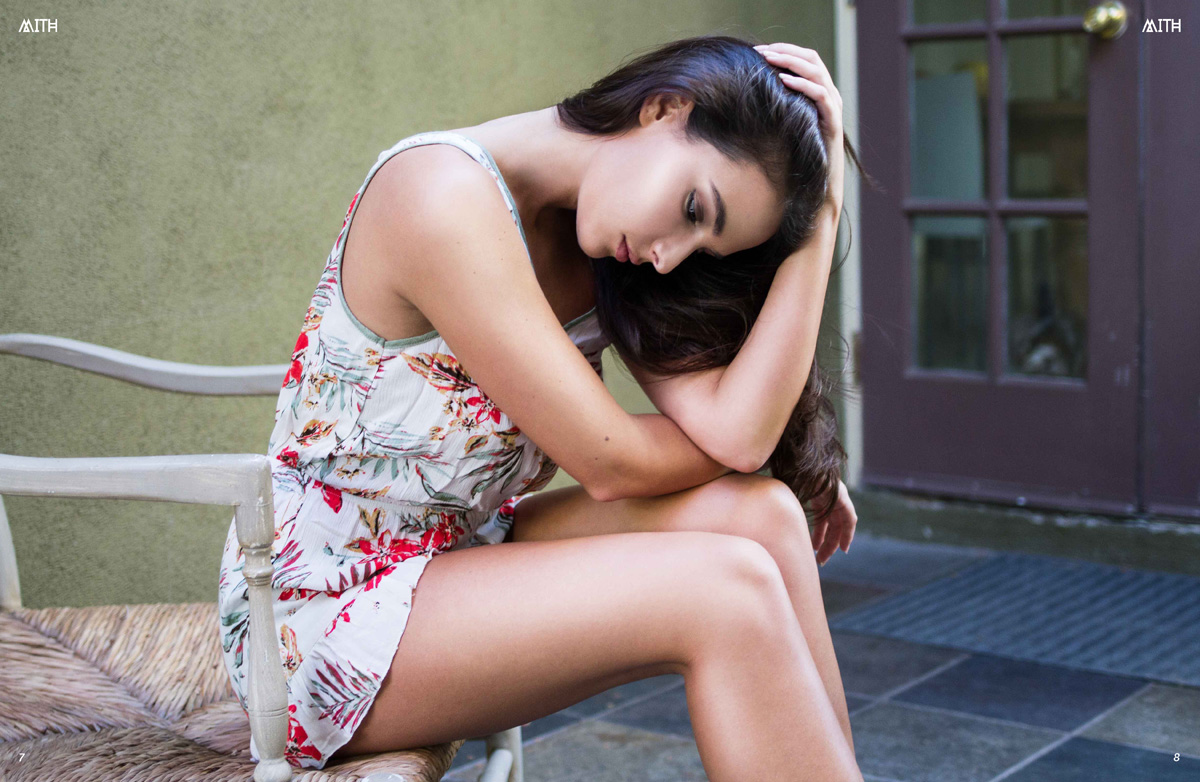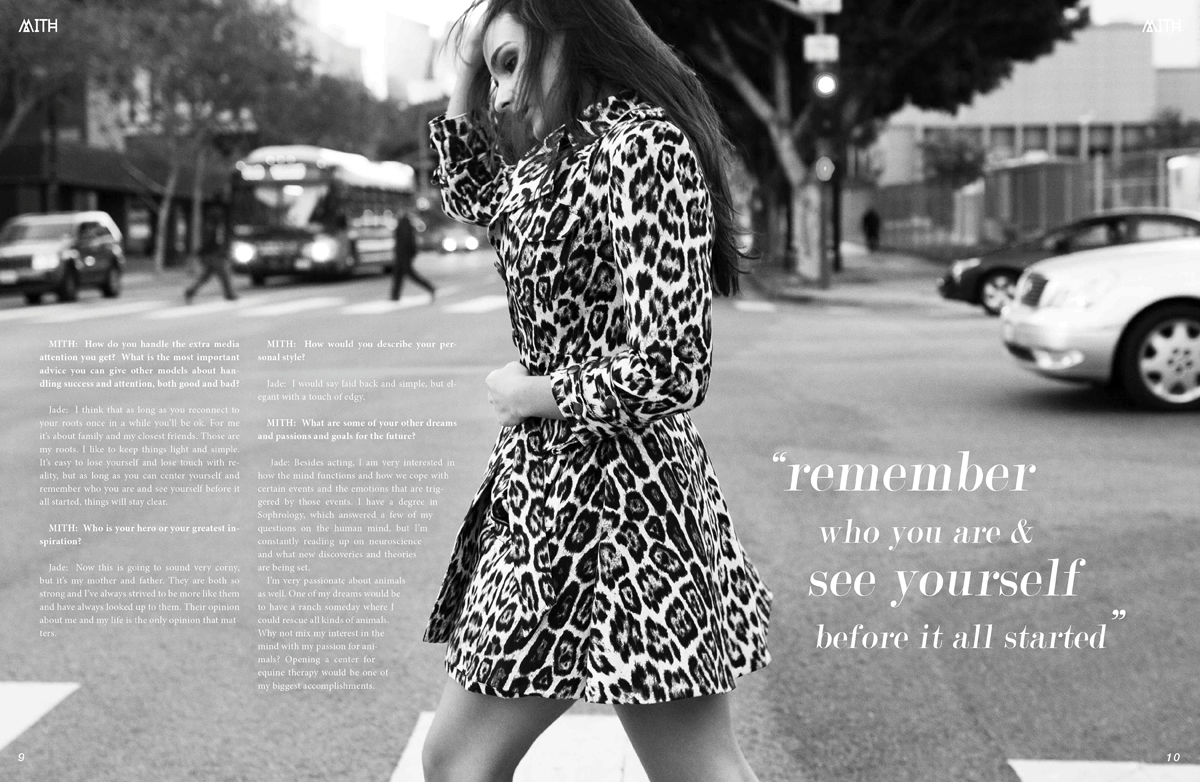 MITH:  How do you handle the extra media attention you get?  What is the most important advice you can give other models about handling success and attention, both good and bad?
Jade:  I think that as long as you reconnect to your roots once in a while you'll be ok. For me it's about family and my closest friends. Those are my roots. I like to keep things light and simple.  It's easy to lose yourself and lose touch with reality, but as long as you can center yourself and remember who you are and see yourself before it all started, things will stay clear.
MITH:  Who is your hero or your greatest inspiration?
Jade:  Now this is going to sound very corny, but it's my mother and father. They are both so strong and I've always strived to be more like them and have always looked up to them. Their opinion about me and my life is the only opinion that matters.
MITH:  How would you describe your personal style?
Jade:  I would say laid back and simple, but elegant with a touch of edgy.
MITH:  What are some of your other dreams and passions and goals for the future?
Jade: Besides acting, I am very interested in how the mind functions and how we cope with certain events and the emotions that are triggered by those events. I have a degree in Sophrology, which answered a few of my questions on the human mind, but I'm constantly reading up on neuroscience and what new discoveries and theories are being set.
I'm very passionate about animals as well. One of my dreams would be to have a ranch someday where I could rescue all kinds of animals. Why not mix my interest in the mind with my passion for animals? Opening a center for equine therapy would be one of my biggest accomplishments.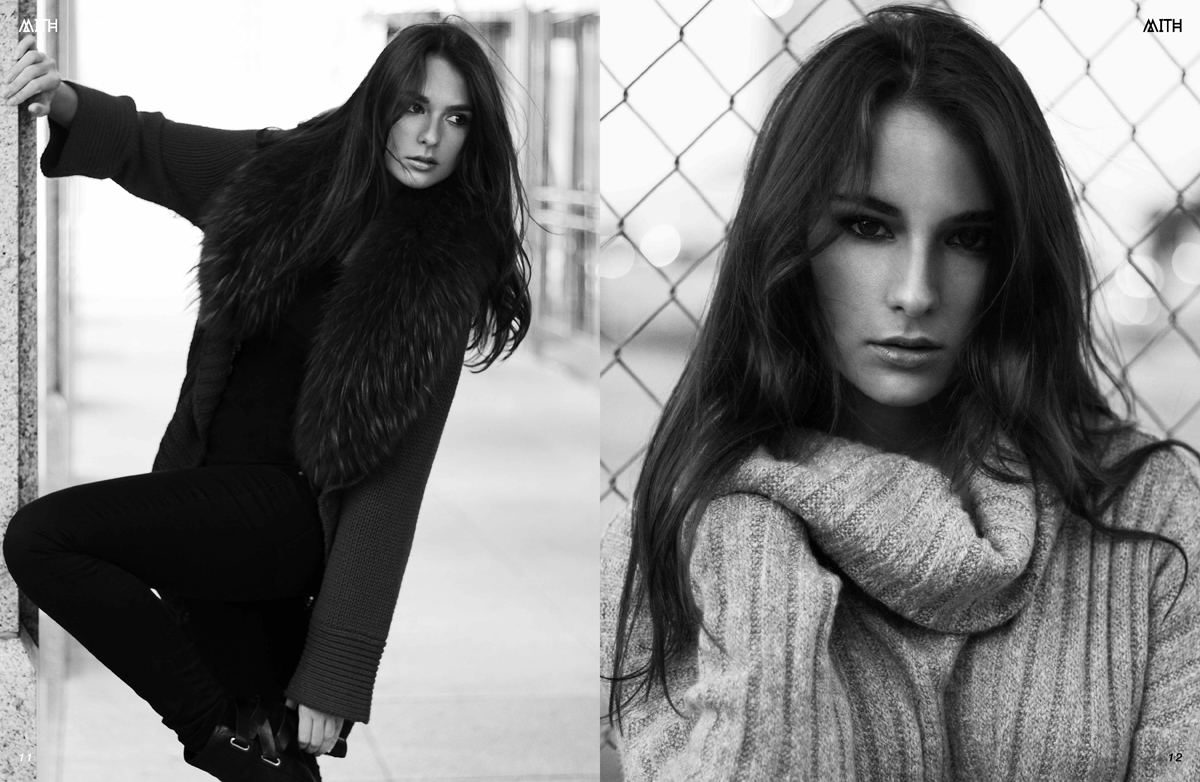 CREDITS:
Model: Jade Leboeuf / @jade_leboeuf
Photographer: Mathilde Bresson / @mathildebresson
Makeup: Sonia Khamari / @sonia_khamari_makeup_artist
Interviewer: Jeffrey Lin / @jeffreylin_
Edited by: Holly Glasser / @hollyglasser