Ever wonder how unknown boys and girls, many who never thought of modeling, end up taking over every billboard, magazine cover, and Taylor Swift music video?  Before the flash and the glam, how do boney, lanky, self-proclaimed tomboys transform into stars on the catwalk?
Part of the secret? Model scouts.  Or, in the case of Elite Model Management, the job description is "Scouting & development."  Ryan Young just happens to be a model scout at Elite London.  We're excited and honored he could take some time to hang with us!
Ryan is in his early twenties, the same age as many of the model talents he's helped prepare for shows and photoshoots.  When he's not scouting, he's with his models in the studios, behind the scenes, and everywhere in between, helping them grow into their dreams while he's living his.  Since meeting Ryan, he's shown us much about the fashion industry most would never know about.  Just follow his instagram @ryanflyoung to see adventures with his models, candids, and what it's really like behind the scenes.
Ryan's own journey into fashion is quite something.  How did a young man from Ammanford, Wales, who moved to London to study graphic design, end up in the center of the fashion world?
In this exclusive interview on MITH, we finally got Ryan to share his unique story, his adventures, and most importantly, his tips and advice for all his models.
INTERVIEW: RYAN YOUNG, ELITE LONDON MODEL SCOUT
**Jessica Burley video credit: Ryan Young, Elite Models Management London**
1. How did you become a model scout for one of the largest modeling agencies in the world? How did that fit into your career plan?
I've always been fascinated by fashion models, I'm not quite sure as to why, but I remember when I was about 16 & I had discovered Karlie Kloss on FashionTV and just fell in love with her. From this point onwards I never ever even considered a job in this industry, as it didn't seem like something that was attainable, or something that I could achieve. Then I moved to London to start university, and I gave myself 3 years to try and make it, but I feel I've exceeded my initial goals, because I never expected to be working for an agency like Elite and do something that I love.
With regards to career plans, I never actually knew what I wanted to do.  As I studied Graphic Design, I knew I wanted to be in the creative industry, I always said that I would like to embrace as much opportunities in the creative field as possible and explore lot of options – and this is what I did when I first came to London. I'm happy doing what I'm doing now and I am excited to see where it takes me even in a years time, as I have a lot more goals that I am hoping to achieve. It's important to be ambitious and show initiative. Hard work will get you where you want to be.
2. Having interned with major fashion designers and now as a scout, whats the biggest difference between what most people perceive about the fashion industry vs. the reality?
It's frequently said that people perceive it to be a very glamorous world, which a lot of elements are, however to reach that glamorous aspect of the industry, a lot of hard work will have undoubtedly been put into place.
In terms of models, people associate models with having extremely glamorous lifestyles, especially from my experience of speaking with people who will enquire about a lot of things with me. However, again there is so much hard work that an agency as well as a model will put into their career. There is so much that takes place behind the scenes, with the castings, fittings that can go on late into the night, the lack of sleep, however those hardships are most definitely worth it in my judgment.
3. Without giving away all your secrets…what's your process of scouting for a male model?
Basically if I see a guy that I think has potential, I will follow them so I can study their face more, & then I will stop them & have a chat. Or on some occasions you see a guy and instantly know he could be a star, so you don't hesitate to stop them!
**Mihai Bren, polaroid courtesy of Ryan Young, Elite Models London**
4. Now for the ladies! What's your process of scouting for a female model?
I find it easier to scout girls, I just feel that I get their looks more quickly than I do with boys. With some guys I scout, I don't see the potential in them until later on in the scouting process, where as with girls I pretty much can see straight away on what type of model they could be, what type of work they would book, which designers would use them for their show etc.
5. What's the most exciting moment/event of your scouting career so far? Did you ever imagine your life would be like this?
I do have quite a lot, I've been very blessed with some great opportunities, but one of them that I always refer back to is when I was at the Givenchy Spring/Summer show, and I was backstage with so many top models backstage that were the reason I originally fell in love with the world fashion models, top models like Natasha Poly, Julia Nobis, Catherine McNeil, Rosie Huntington-Whiteley.
I remember being backstage after the show where there was Cara getting her eyebrows dyed back to her natural colour, Pat McGrath spreading her love – she's such a positive lady and is extremely kind to everyone that she crosses paths with. Another exciting time was when I was in our Paris agency sitting on the sofa, and then Kendall Jenner comes walking through the door, I don't usually get starstruck but I did a little. I spoke with her afterwards and she is such a humble being, she always seems so grateful for every opportunity that she has been given.
**Cara Delevingne & Ryan Young. Photo courtesy of Ryan Young, Elite Models London**
**Katlin Aas & Alana Zimmer, polaroid photo courtesy of Ryan Young, Elite Models London**
6. What are some responsibilities of a scout that most people don't know that you do? Many people imagine a scout's life as either just hanging around all day or checking piles of email submissions. Is that how it is?
I remember when I scouted a girl last summer just before fashion week, she couldn't walk in heels at all, so I spent nearly every evening for one week teaching her how to walk – there is an artistry to catwalk!
There are other small elements like organizing which festivals I will be attending.
7. What kind of pep talk or advice do you give your new models to help them have a great start? Or is success for a model mostly "luck" or "genetics"?
I don't think there is an element of 'luck' to a models career, it all really comes down to winning the genetic lottery firstly, and also having something about you as a model that differentiates you to all the other models out there, both in personality and in looks. If a casting director likes your looks, then they will use you for their shows.
Advice wise, I would say to always maintain a healthy and happy lifestyle, embrace every given opportunity, but still find a balance between studying. Most importantly I would say be happy to everyone that you meet no matter who they are.
8. Do you think your graphic design and photography background helped your success as a scout? Or is scouting a learned skill?
I'd like to think so, one time I designed a scouting package and posters that myself and my fellow scout handed out to girls that we liked at a festival. I think it helps me in smaller area's where you wouldn't even think about. For example, attention to details with regards to a models photographs, and as silly as it sounds but also when studying a potential models face and seeing how far or close apart their eyes are, etc. That sounds a little silly but it's so true!
9. What's your advice to models for using social media like Instagram & Tumblr to help their success?
I can't emphasize enough to models how important social media can be. These days to be a successful model, and a top model, you have to market yourself, and in a way brand yourself. These are things that the models agents are unable to do themselves, like building up a fan base through social media. Look at Lucky Blue Smith – he engages with his followers all the time and especially during fashion week, and now he's got over 1 million followers on Instagram – I will confidently say that he won't book a campaign just because of his looks, that 1 million fan base helps a lot!
10: Bonus question! What's with your obsession with Polaroids!? It definitely encompasses a nostalgic vibe digitals can't replicate!
I love the aspect of catching things in the moment. When there are photographers backstage, they are snapping up hundreds maybe even thousands of photos of the models, and I just think catching that special moment in one picture makes it more sacred and valued. I actually have a collection of polaroids, one's that I have never even posted online, I came to the decision that posting too much of them online will lose some of the value of them. I remember when I posted my polaroid of Kim Kardashian and North West and so many people on Instagram and Tumblr posted it and claimed it to be their own picture. I think I remember seeing it on Tumblr somewhere with over 800k reblogs.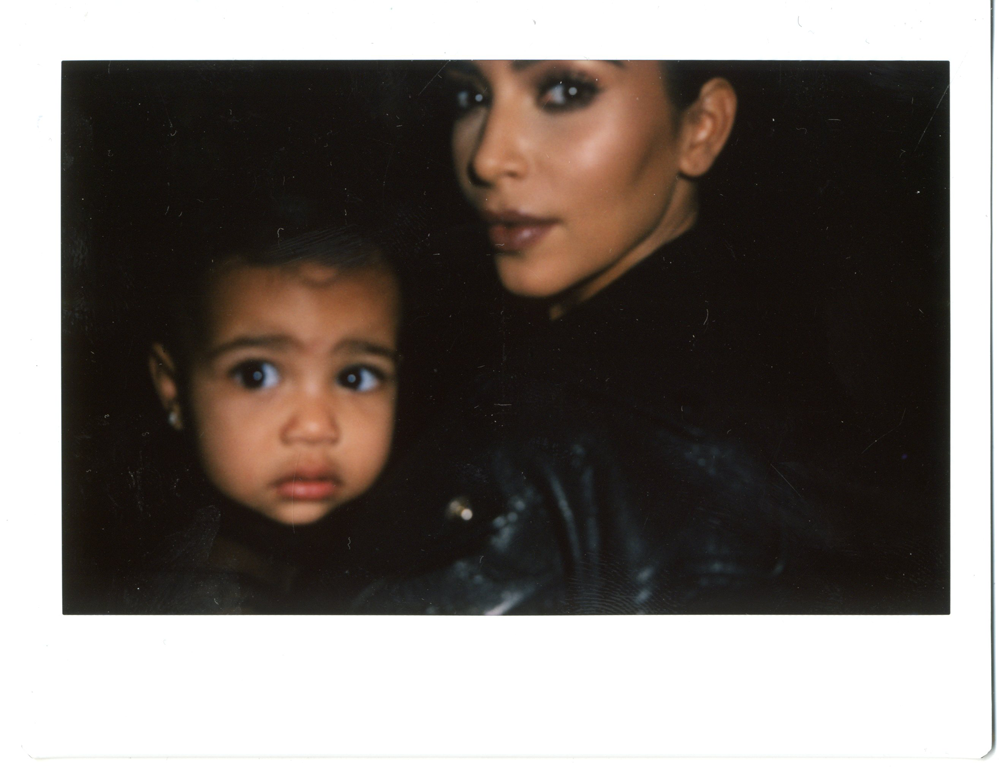 **Kim Kardashian & North West polaroid. Courtesy of Ryan Young, Elite Models London**