One of the most recognizable faces on the Runway in 2015 was Rachel Finninger. From Gucci to Calvin Klein to Dior and Valentino, Rachel walked in a total of 26 shows during Fashion Week.  Style.com, now owned by Vogue, had said that Rachel is "Gucci and Calvin Klein's go-to model" and she "isn't your typical muse."  As you read this interview and get to know Rachel, we think you'll agree.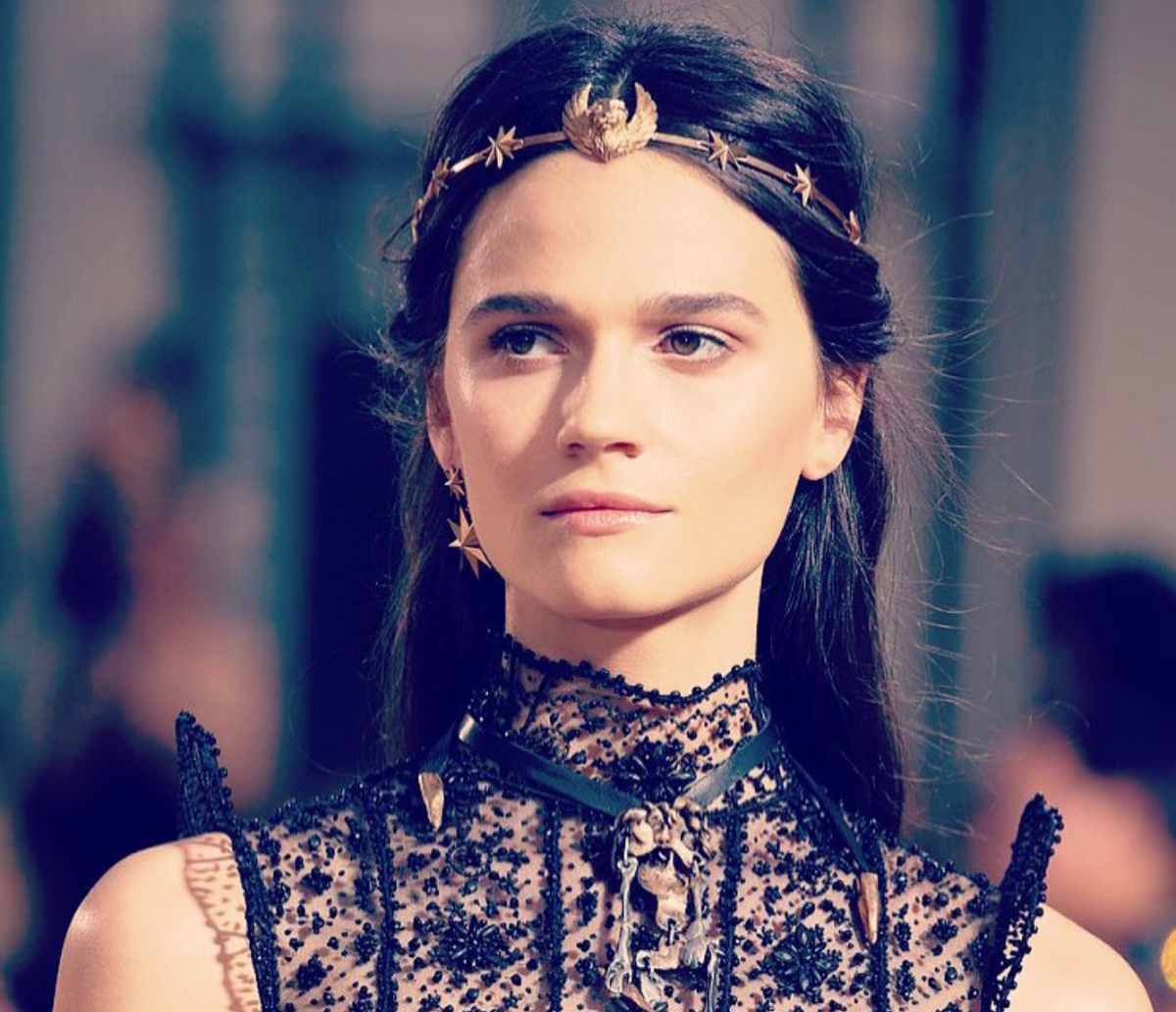 Rachel Finninger at Valentino's Haute Couture Fashion Show
MITH: How did you get into modeling and how did your career develop?
I was scouted in Dallas TX! My mother had always told me I should model, but it wasn't until I was stopped in a shopping mall that I realized there was validity to her claims 🙂 From there, I went on to sign with agencies in Europe and then travel abroad! And my career developed from there.
MITH: Most exciting moment of your modeling career so far…
Walking for Valentino and Dolce & Gabbana! They have always been my two most favorite designers and I can die happy after working with those incredible teams 🙂 I also shot the Coach FW Watch Campaign with Karl Templer styling and Mikael Jansson shooting. That was such a surreal career moment! In addition, walking for Dior Haute Couture was just incredible. Raf Simons had created this gorgeous glass wonderland in the middle of the Musee Rodin in Paris. I couldn't believe what I was doing. It was unbelievable! God is just so good.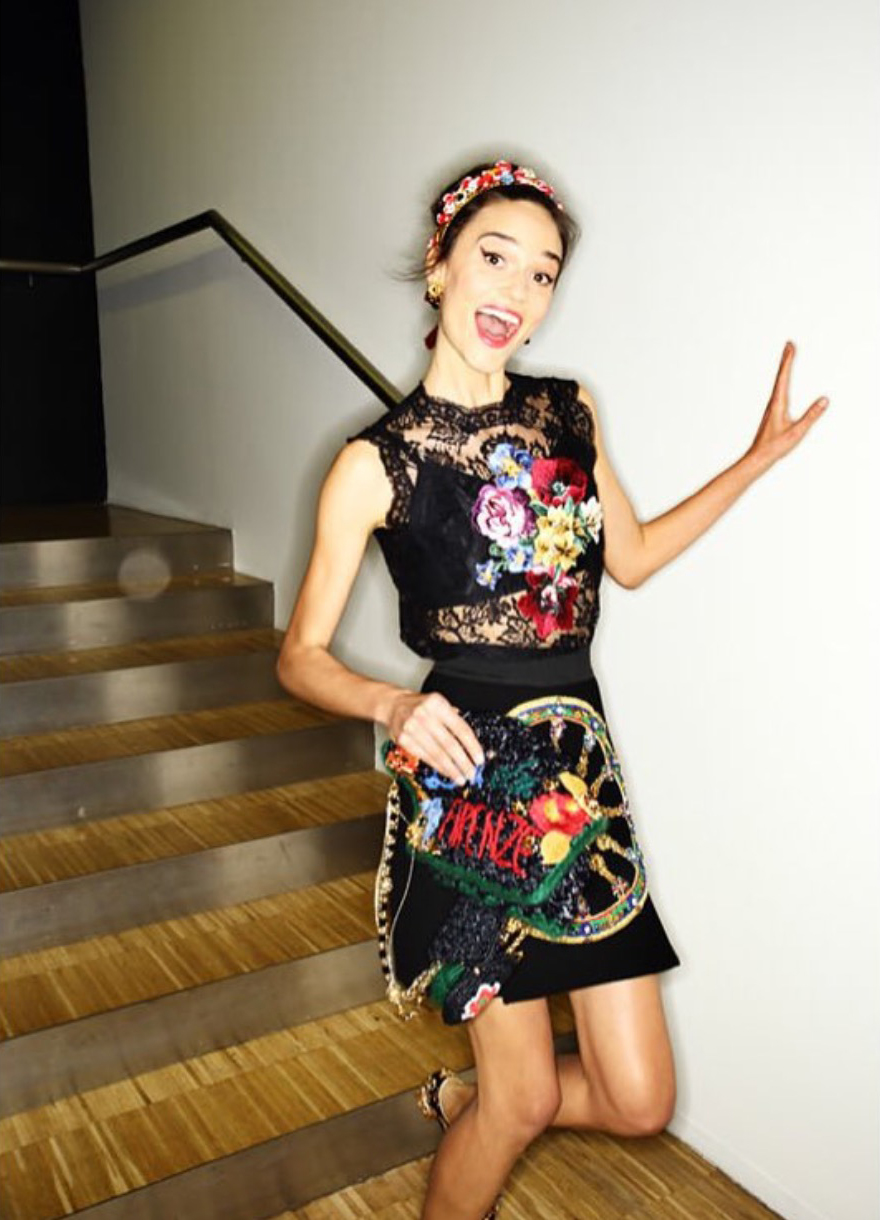 Rachel Finninger backstage candid at Dolce & Gabbana show
MITH: How do you stay motivated through all the long hours, late nights, and casting cattle calls?
I keep myself grounded and motivated by having hobbies and friends outside of modeling. It's so refreshing to kick it with people who could care less about fashion. If I'm able to reset and absorb this truth periodically, then it allows me to have more fun in modeling and release a lot of the stress. If you're too stressed out then you ironically loose the motivation to continue.
MITH: What role does a modeling agency play as part of your team?
They essentially are my team. I can certainly veto a decision they make, but I almost never would because they are very well educated in the industry and have my best interest at heart. It's important to have a very good, trusting relationship with your agents so that they respect your decisions and vise-versa 🙂
MITH: What excites you about modeling?
New opportunities every day. It's a constantly changing, evolving industry, so there's never a boring day, month, or year! It's so thrilling!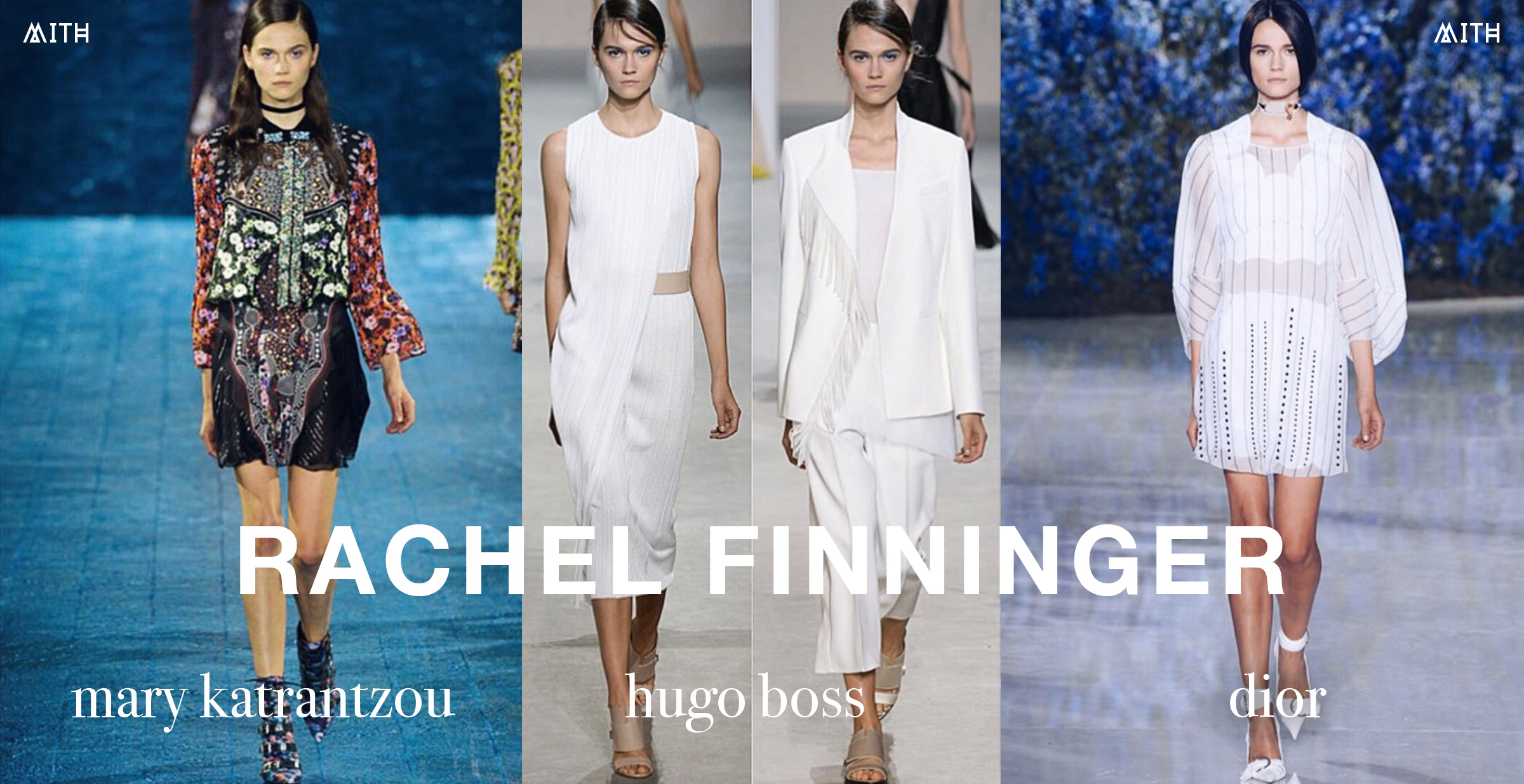 MITH: What do you do differently that's the key to your success?
Relationships!!! Being 5'10" and size 0 isn't what makes a high fashion model successful – it's all about the relationships that go on behind the scenes. Befriending the casting director's assistant. Talking with the show's producer, etc… I got booked for the Calvin Klein show by having a meaningful chat with the show's art director – not a casting person or the designer…You never know who carries the weight of the decision, so it's very important to be lovely and kind to everyone.
MITH: What are some harsh realities of modeling that people don't think about?
It affects your psyche more than you want it to, for sure. It's hard to separate yourself from your commodity (your body). People might say "Oh, your nose is too big' or 'hips too wide'." But they're not saying that you're a failure as a human being, they're saying that your 'product' isn't to their subjective standards. It doesn't mean that no one will want you, just one person doesn't. It's so hard to realize this. But you're only given one body and there's nothing you can do (naturally) to change it! You just have to pick yourself up and move on.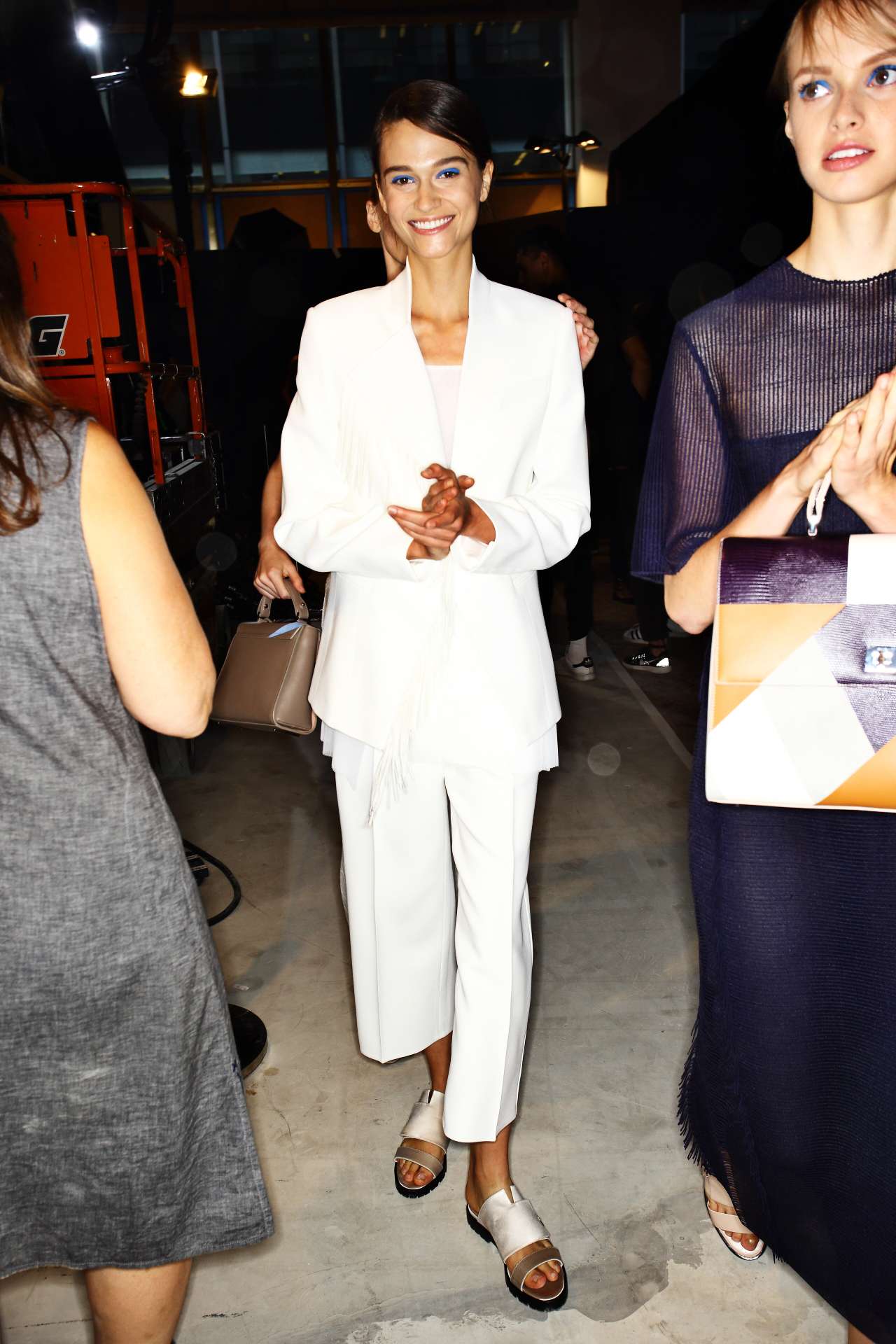 Rachel Finninger backstage at Hugo Boss fashion show
MITH: Most important advice of what to do and NOT to do…
Be KIND! Be LOVELY! It's important to treat everyone with the same utmost respect and regard. Treat the dresser as if they were the designer.
People like to work with people they like. It's as simple as that. Be lovely and be rebooked. Also – don't get too down about not booking a particular job. This industry can turn around so quickly! You might not book today, but you might get the call of your dreams tomorrow. So keep your chin up 🙂
MITH: How do you try to brand yourself?
Branding is massive in modeling now. I would venture to say that branding is synonymous with modeling. I love to showcase my personality and I'm not afraid to do it! My instagram is riddled with silly things I say or do – it's so liberating to not care what people think. Models are so much more than the pretty faces they wear, and I'm on a mission to let it be known! (See for yourself at @RachelFinninger)
MITH: Tell us some quirks and fun facts about you!
Hahah! I don't think I have enough space to tell you everything! Well, fun fact – I'm Native American and German, which makes for an interesting family history. Before modeling I wanted to become a horse therapist and a killer whale trainer (who didn't?). I was basically born in the saddle in Dallas, TX – riding my whole life. I spell English in a British way because I was brainwashed by the Brits when I lived there for a year. And I'm also a master cookie decorator (see for yourself on my snapchat – RachelFinninger). And that's all the secrets I'm revealing for now…Follow me on Instagram/Twitter to learn more 😉 Big Love!!! xxxxx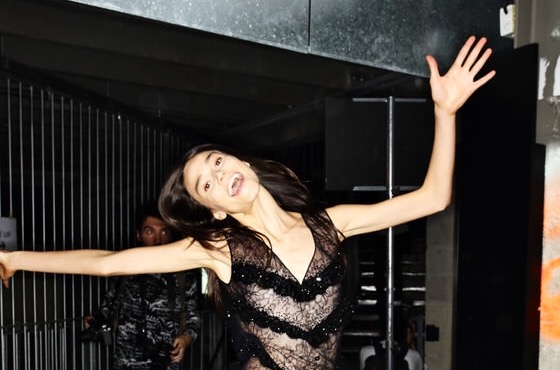 Follow Rachel on Social Media!
Instagram: @RachelFinninger
Twitter: @RachelFinninger
Snapchat: RachelFinninger
~Interview by Holly Glasser. Edited by Jeffrey Lin.