STYLE Q&A 
with LaDonna Whittingham (As seen in MITH issue 7 print on page 158)
LaDonna is a stylist in Los Angeles and creator of FlyGirlsUnite, a movement and blog to bring women together in fashion to pursue their  true passion and purpose. LaDonna is quite fly herself, and shares some tips with us on how to be the same!
MITH: What makes a fly girl, fly?
LaDonna: A 'FlyGirl' is someone who is unafraid to be who she is, and also isn't afraid to express where she has come from. There are a lot of women that are walking around who are ready to break barriers, unashamed of who they are, and who they were created to be. A woman who is ready to join forces with other women is fly. We all have something that we can bring to the table and I consider any woman who is kind and generous in spirit, and of course stylish in her own way, to be fly! Overall, if your confident in yourself and know who you are and where you're going, that's all that you need!
MITH: Is it hard working with multiple clients with different styles? 
LaDonna: Styling is no easy task. Working in a variety of settings with different clients is challenging, but it's possible. With constant persistence and dedication, anything you put your mind to is possible. Once you really develop a relationship with your client, no matter how many clients you have,  as long as you KNOW who they are…their desires, likes and dislikes, you should be able to work with them all collectively, confidently and with ease.
MITH: What are a few staples in a fly girl's wardrobe that never go out of style that are both elegant, modest and timeless, and also make her stand out in the crowd? 
LaDonna: A couple of timeless staple pieces I recommend for a 'FlyGirl' would be a classic LBD (little black dress or black leather moto jacket. Both pieces are versatile, and never go out of style! It's not what you wear, but how you wear it that makes you stand out in a crowd. Confidence goes a long way. Get up and get dressed not only in your favorite dress, but clothe yourself in confidence, joy, peace and a positive attitude. Having true self-identity is the reflection of your character, so it's important to not only consider "what am I going to wear today or tomorrow," but also just as important or more important to decide "who am I going to be today" that makes you fly!
MITH: Besides fabulous style, how can a fly girl be a leader in her family and community? 
LaDonna: A fly girl can be a leader in her family and community by setting a good example. I love giving  back to the homeless and serving in my church. This not only represents my style, but also my spirit. Being fly is clothing your body with fabulous garments while also clothing your character with deeds of love. You see, being fly is not just about clothing, it's also about character. It's about the way you feel about yourself and how you make others feel.
This is why my blog/movement FlyGirlsUnite is soo important, because it allows Faith and Fashion to become one – it brings sisters and style together. It's about breaking down barriers and strengthening relationships with someone just like you, so you can grow and encourage each other on this journey of life. Styling for me is not just about putting people in clothing, but it's also about clothing the person within that brings me gratitude and satisfaction in what I do. We have to go beyond the surface and go a little bit deeper.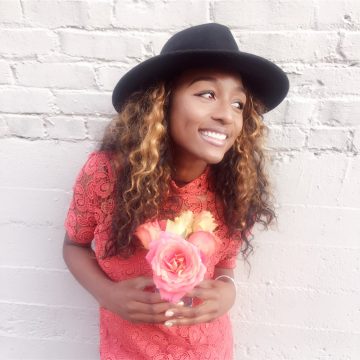 Photo of LaDonna Whittingham
Photographer: Ashley Claire @korthwest
Instagram: FlyGirlsUnite & @LaDonnaAlicia
Edited by MITH Editor-in-Chief @hollyglasser