Beach ready shoulders and legs, here we go!
It's almost warm weather again, so our friend and NYC-based personal trainer, Michael Smith, is here to offer up 7 of his favorite exercise combinations to get you toned and beach ready just in time for summer!
Read along, as Michael guides us step-by-step through some movements:
The Workout –
This workout was designed to synergistically target the two areas that most of the women I train tend to want to develop the most – legs and shoulders. Be sure to focus on your form and aside from the two timed movements, keep the tempo medium paced. Work your way up to 5 total rounds and have fun!
Overall squat basics –
The squat is one of those foundational exercises that every exercise enthusiast should learn to master. This workout utilizes several versions so here are some general squat basics to keep in mind –
Step 1: Stand with feet a little wider than hip width, toes facing front or slightly out.
Step 2: Drive your hips back—bending at the knees and ankles and pressing your knees slightly open—as you lower yourself into a "sitting position".
Step 3: As you lower yourself down, keep your heels and toes on the ground, chest up and shoulders back – avoid leaning too far forward.
Step 4: Strive to eventually reach parallel, meaning knees are bent to a 90-degree angle.
Step 5: Press into your heels, straighten legs to return to a standing upright position, and press your hips forward as you return to the starting position.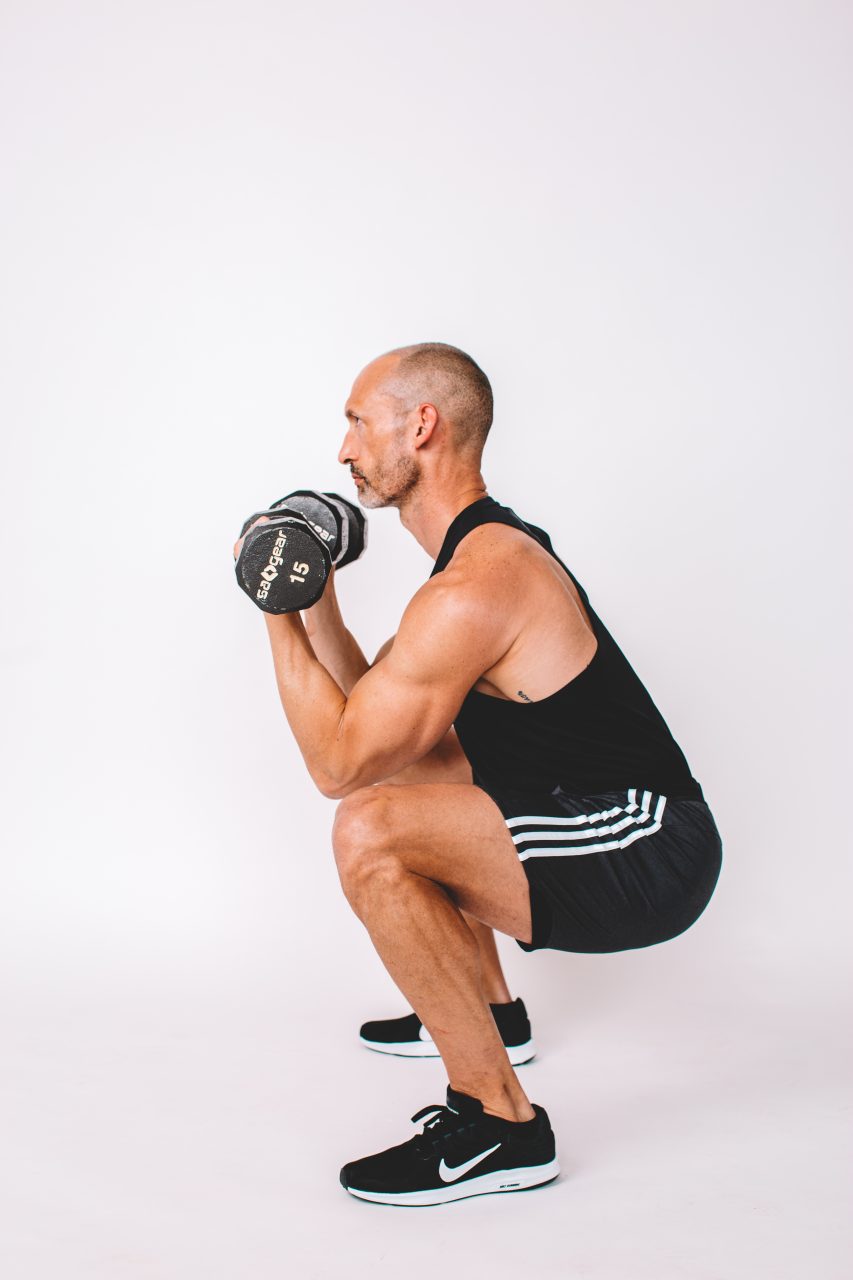 The Exercises –
I. Thruster – 10
Stand with the dumbbells in front of your shoulders, palms facing in. Keep your knees wide apart, your heels down, and your back until your thighs are at least parallel with the ground.
Drive up through your heels using your quads and glutes. Maintain that momentum as you come to the top of the squat and use it to help you push the dumbbells over your head until your arms are locked out and your palms are facing out. Finally, bring the dumbbells back down to the starting position to complete one rep.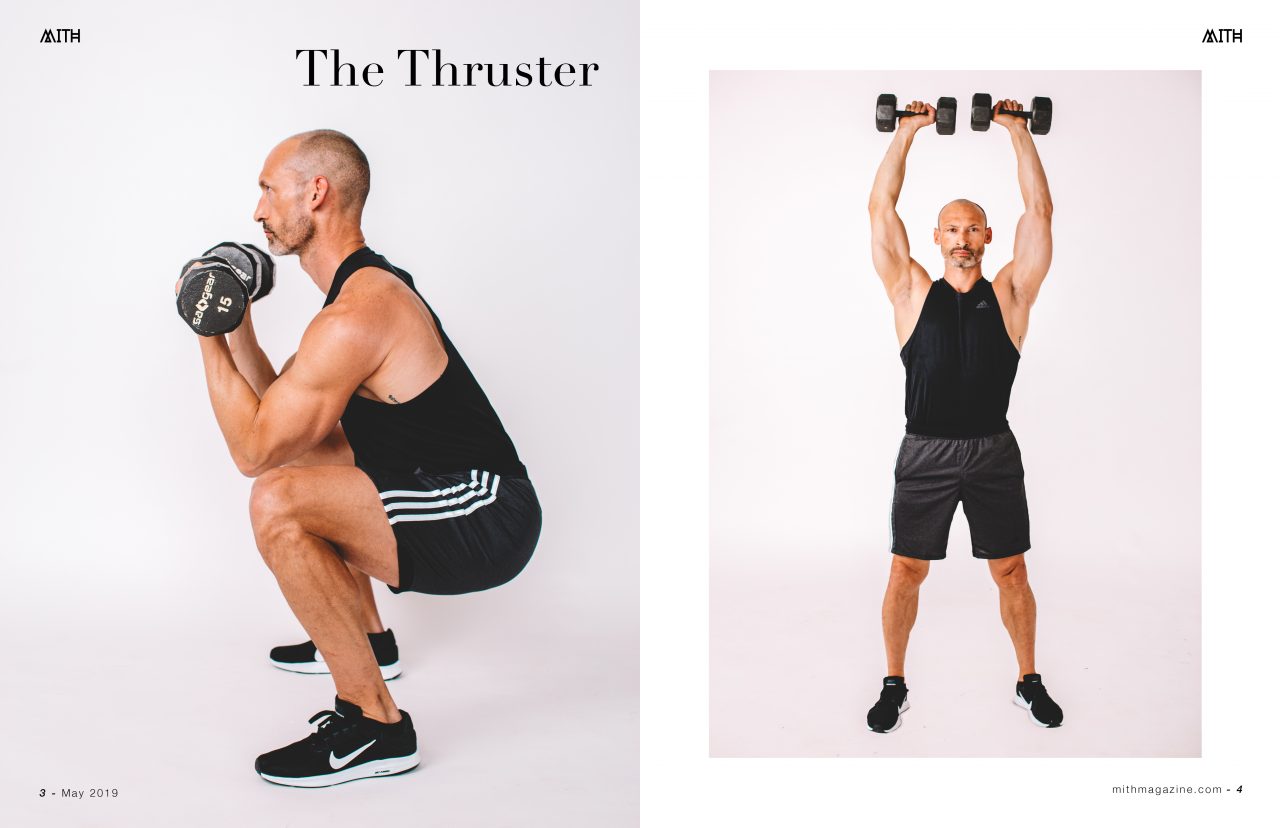 II. Jump Squat – 15 – 30 seconds (faster tempo)
Stand with your feet shoulder-width apart. Start by doing a regular squat, then engage your core and jump up explosively. When you land, lower your body back into the squat position to complete one rep. Land as quietly as possible, which requires control.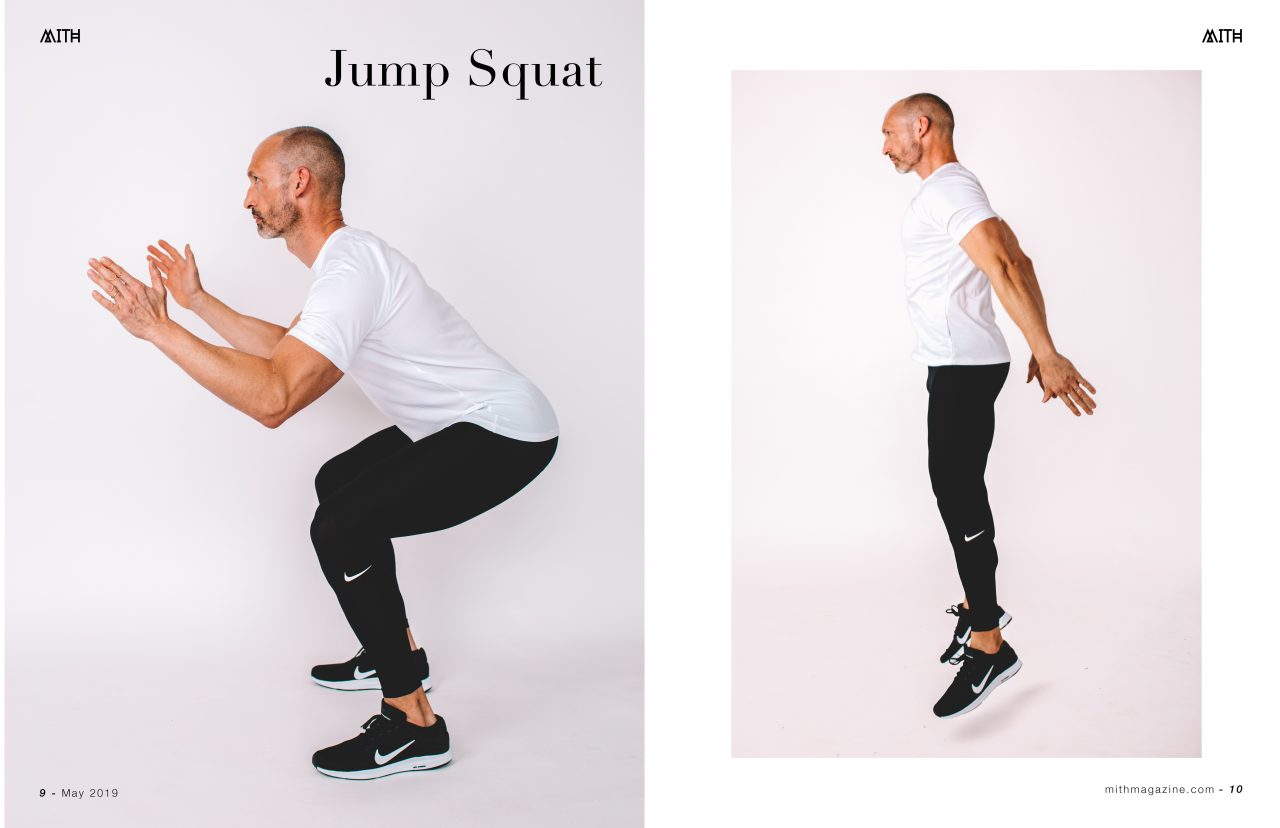 III. Dead Lift Front Raise – 10
Hold a pair of dumbbells in front of you with an overhand grip, palms facing the body. Hinge forward at your hips, slightly bending the knees, lowering the dumbbells to the ground without allowing your back to round. Brace core and lift back to the starting position but as you do, raise your arms up in front of you with your palms facing each other. Pause when the dumbbells reach shoulder height and then slowly return the weights to the starting position.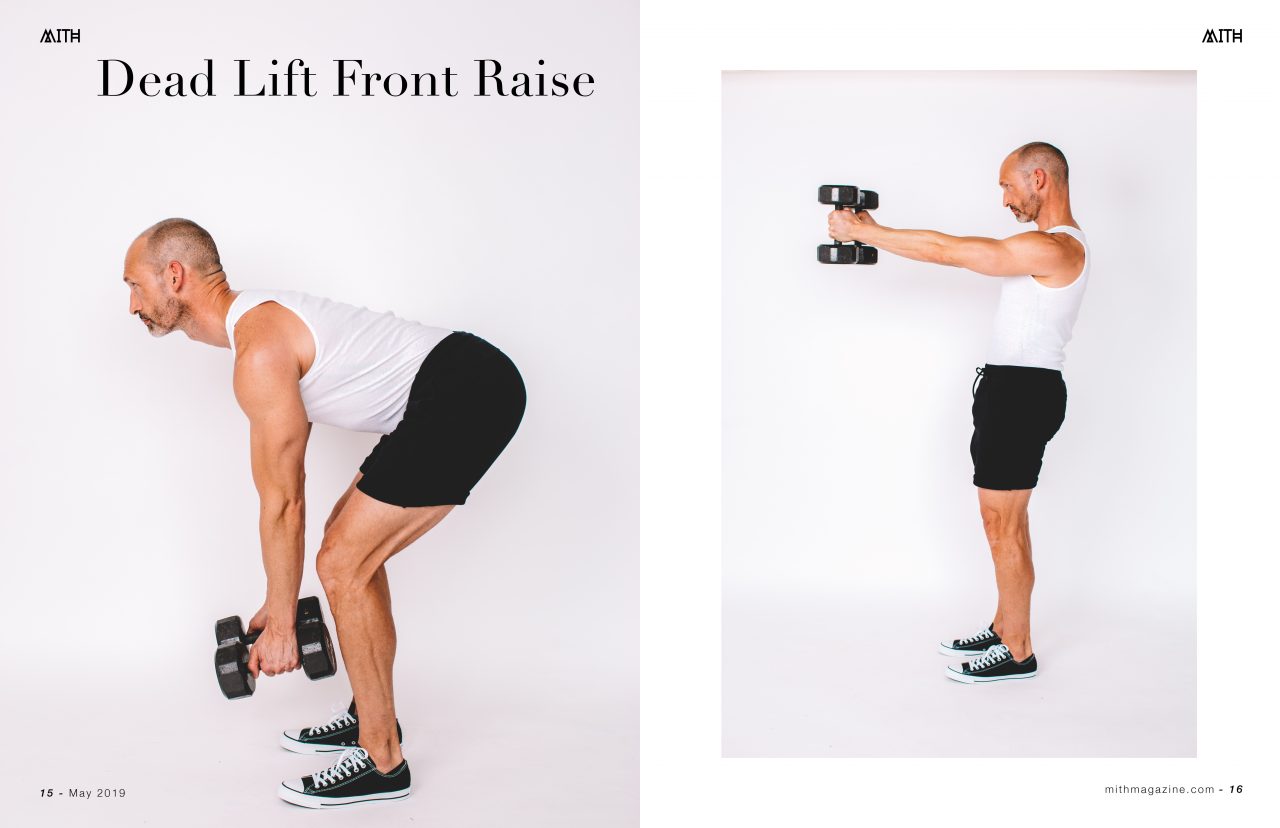 IV. Lunge Side Raise – 8 each side
Keep your upper body straight, with your shoulders back and relaxed and chin up and step forward with one leg, lowering your hips until both knees are bent at about a 90-degree angle. Make sure your front knee is directly above your ankle, not pushed out too far, and make sure your other knee doesn't touch the floor. At this bottom position, lift the dumbbells to your side with a slight bend on the elbow and the hands slightly tilted forward as if pouring water in a glass. Continue to go up until you arms are parallel to the floor. Exhale as you execute this movement and pause for a second at the top. Lower the dumbbells to the starting position and keep the weight in your heels as you push back up to the starting position.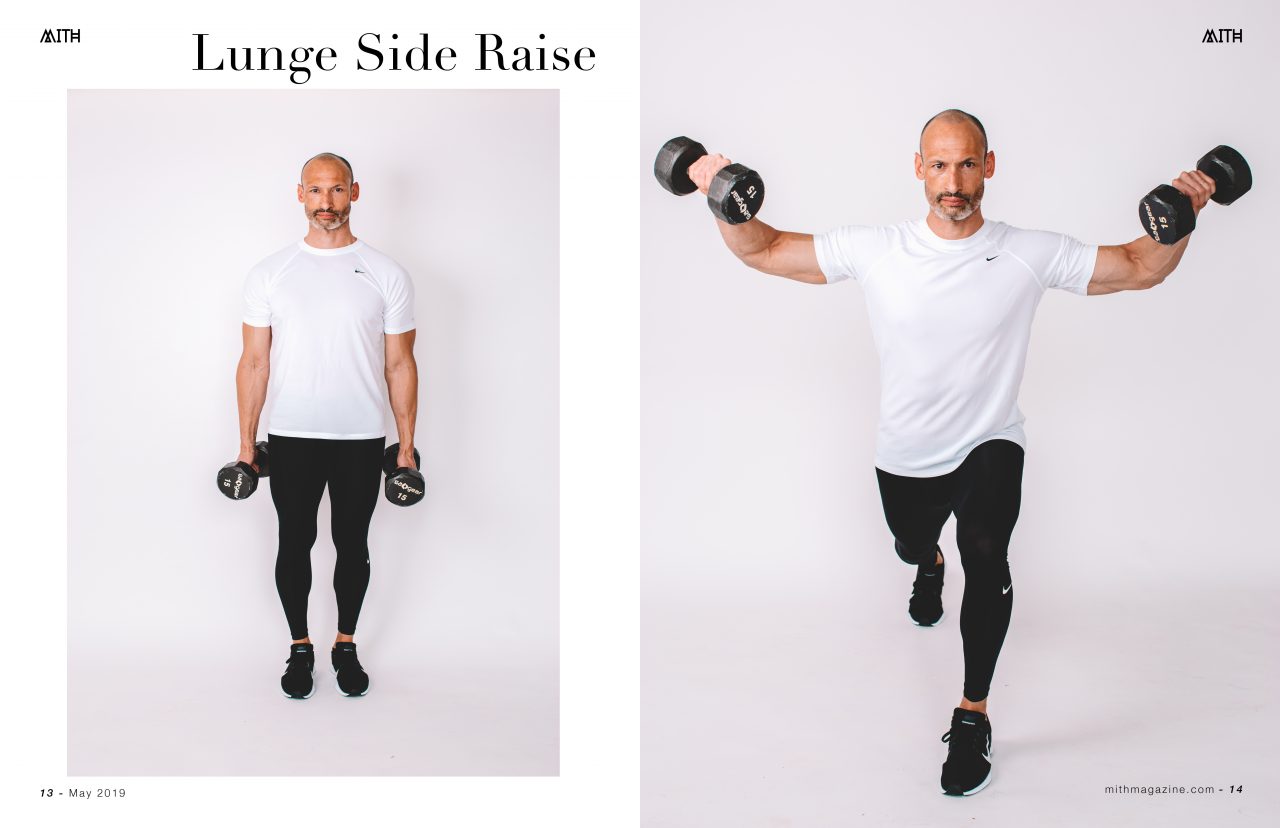 V. Sumo Row – 10
Stand with your feet wide, toes pointing out, and dumbbells in hand. Bend your knees, lowering your hips deeply, so your thighs are parallel with the floor (the dumbbells might touch the floor). Make sure to keep your weight back in your heels and as you raise back up, straighten your legs completely, squeeze your glutes at the top of the movement, and raise the dumbbells (they should be close to the body as you lift them up) until they nearly touch your chin – your elbows should drive the motion and should always be higher than your forearms. Lower the dumbbells back down slowly to the starting position.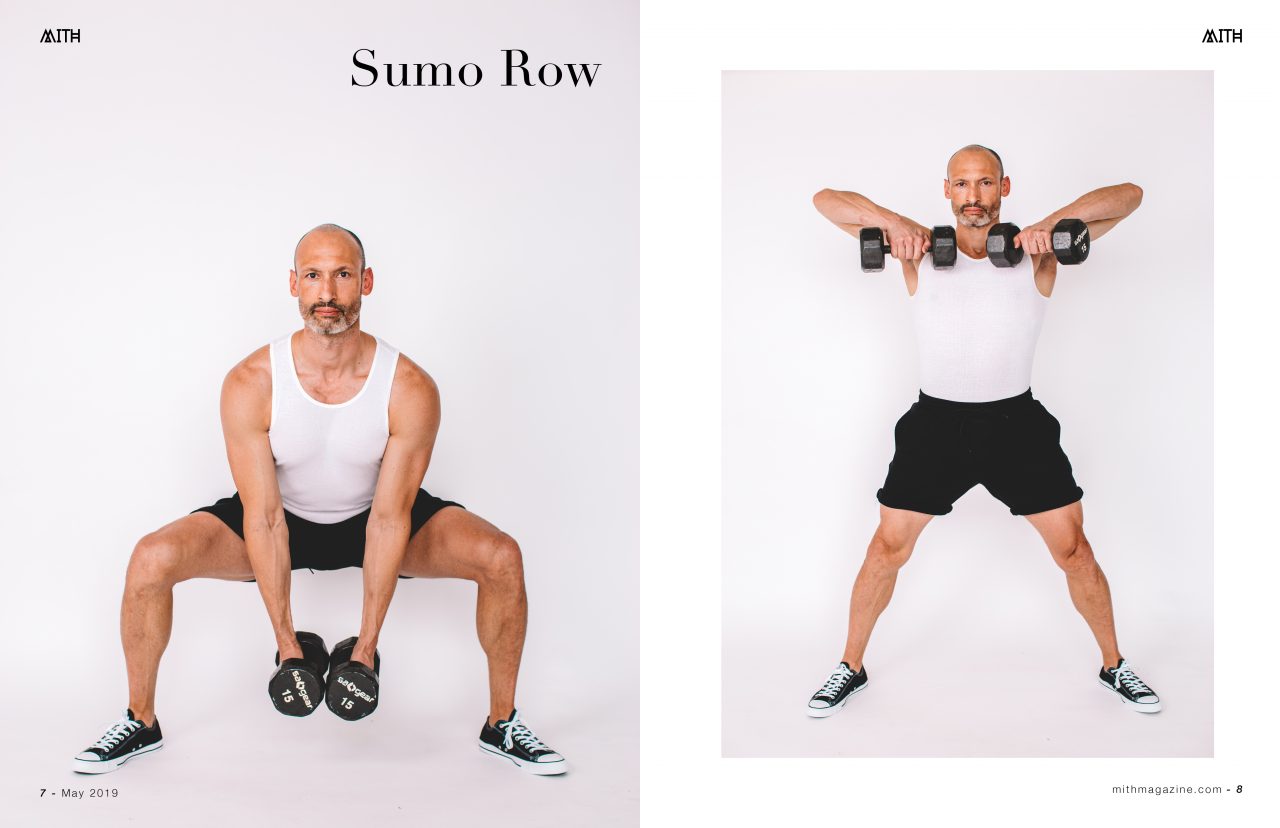 VI. Pulse Squat – 15-30 seconds (faster tempo)
Stand with your feet between hip-width and shoulder-width apart and sink into a squat while keeping your chest up and your core braced – you can reach your hands out in front of you or keep them in at your chest. From this lowered squat position, pulse up and down, coming up toward the top of the squat and then sinking back down to about parallel. Make sure to keep your chest up and your heels down as you pulse and try to vary the depth of the squat (sometimes doing bigger movements and sometimes doing smaller pulses).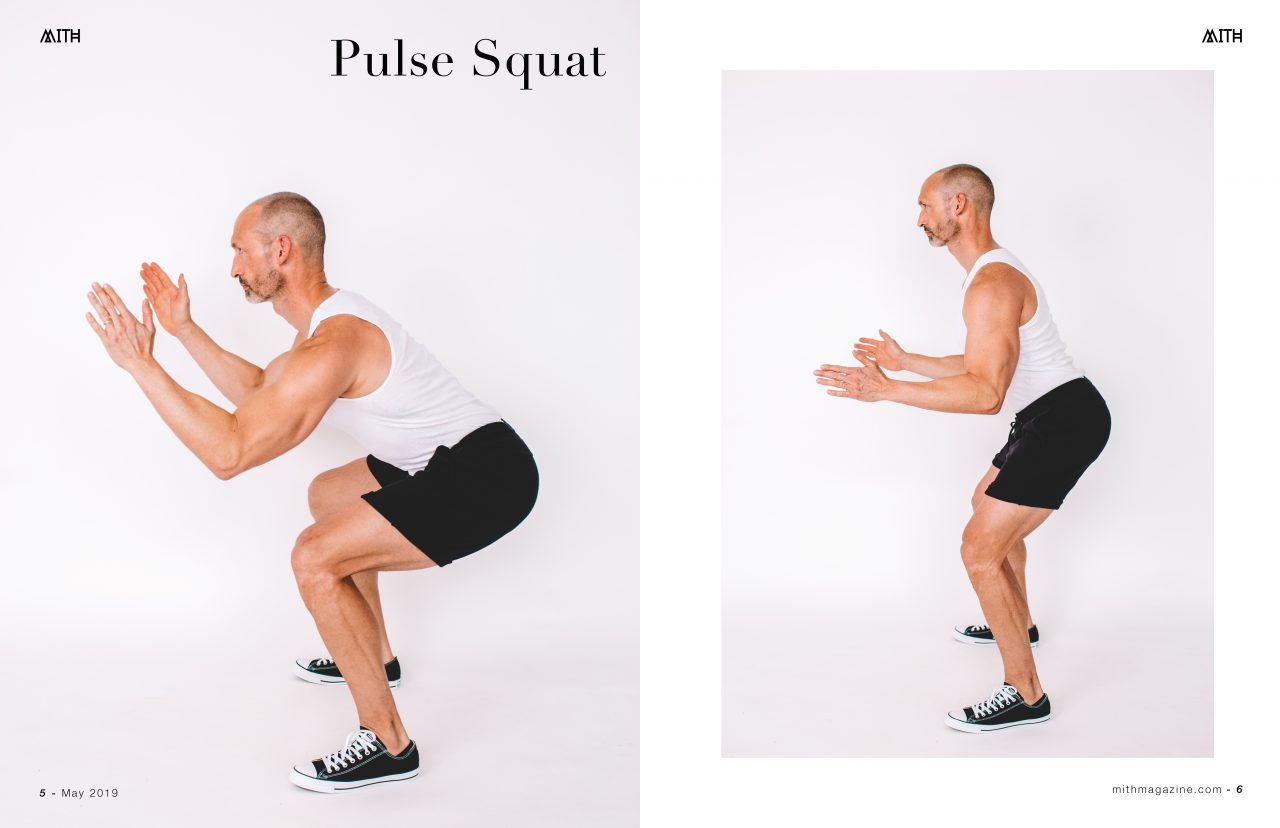 VII. Single Leg Dead Lift – 10 each side
Hold the dumbbells in both hands, palms facing in. Stand on one leg, and while keeping that knee slightly bent, perform a stiff-legged deadlift by bending at the hip without allowing your shoulders to round. Continue lowering the dumbbells until your "resting' leg and torso are parallel to the ground, and then return to the upright position. Repeat for the other leg.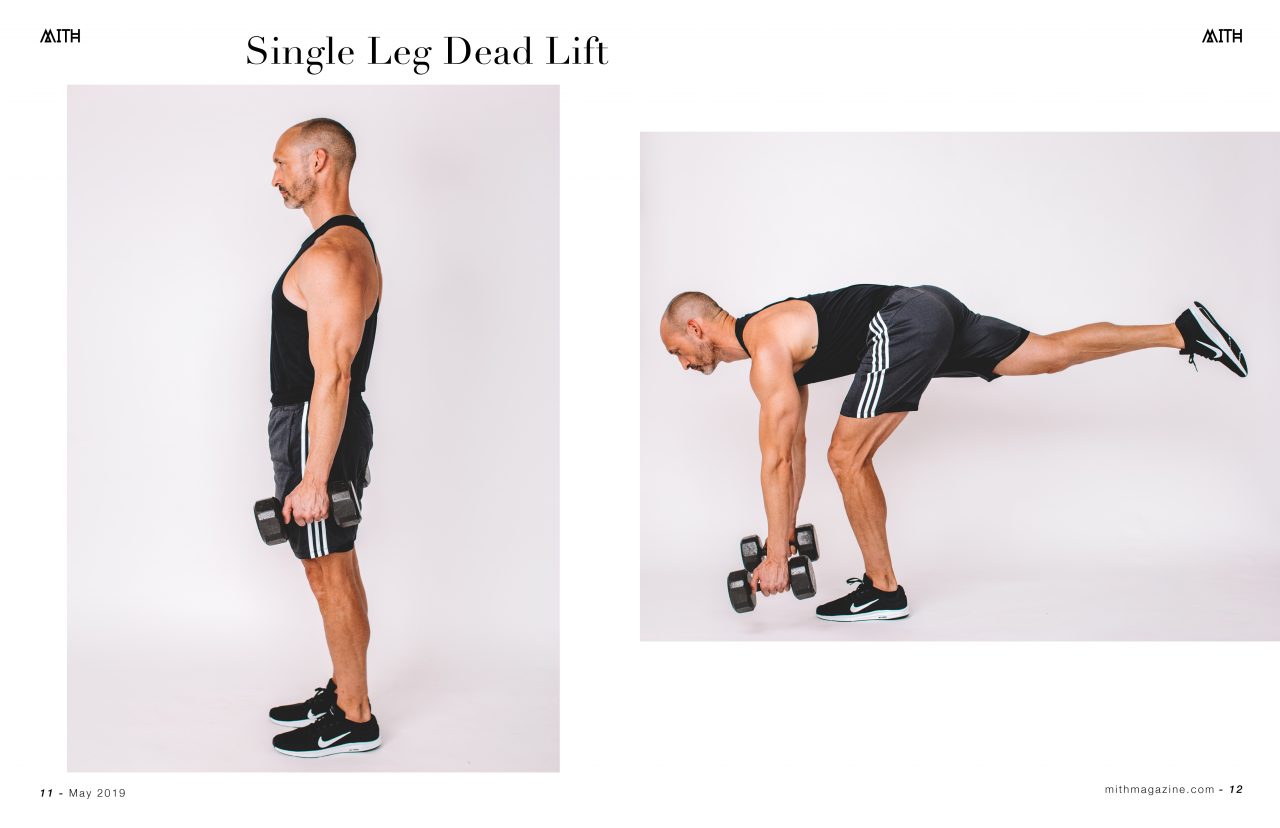 BIO –
Michael Smith is an ACSM certified personal trainer that has been helping people achieve their fitness goals for over two decades. Smith, who has also been a fashion model for 20+ years, a pastor for 18+ years, and an adjunct science professor for 9+ years, is a staunch believer that basic weight training helps all people live better, stronger, and longer! He currently lives in New York City with his wife Kristyn, his sons Cade and Rider, and his dog (Finn) and cat (Fauna).